Because she's been there and done that, literally, former Bachelor contestant/tear fountain Ashley Iaconetti is recapping this season of The Bachelorette for Cosmopolitan. With insider insight as well as a clear eye for what's going down both in front of and behind the cameras, read on for her thoughts.
This post contains spoilers for last night's episode of The Bachelorette.
A dark horse has stepped into the light! Tyler C. was one those The Bachelorette men who are hard to trust because they're so damn classically handsome. From the moment many of us saw his photo, we wrote him off as a fuckboi. Talk about judging a book by its cover. But Tyler seemed to further perpetuate the stereotype by coming across as a laid-back stoner with swaggy body language on the show.
However, last night Tyler got his first one-on-one date with Hannah and was the most romantic dude we've seen so far. Connor was sweet last week, putting Post-it notes with compliments all over Hannah's room, but Tyler was a straight up knight in shining armor, coming to rescue Hannah from her bad mood. Tyler found Hannah down in the dumps and assured her that he didn't just want her at her best but also at her lowest.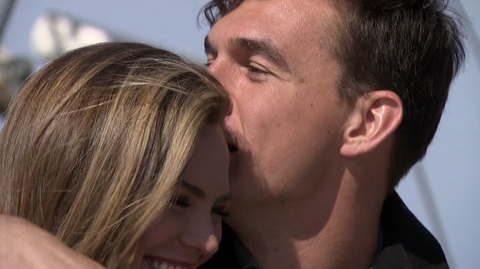 Sure, players often know the right things to say (it's kind of their whole M.O.), but from this point on, I'm going to assume everything Tyler says is genuine…simply because I want to. Plus, he wasn't all talk. Tyler showed comfort and support, and his affection came with great warmth. Their dance at the Jake Owen concert gave me little heart bursts on Hannah's behalf.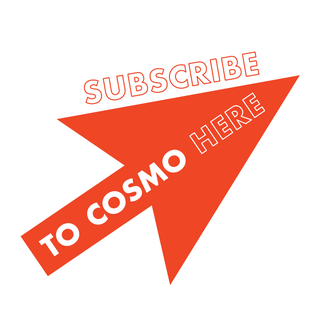 Inside scoop: Before any of Hannah's dates this week, Jared and I filmed a scene with Hannah in Newport, Rhode Island (which is where we're getting married in August). When I brought up Tyler being the hottie of her season based on early photos, her guard was up with him due to his smooth tendencies. I loved that Hannah told Tyler that she had her doubts about him and that she thought he was a bit of a player, but he really surprised her throughout the date. I feel like all of you reading this are nodding in agreement.
Remember a couple of weeks ago, I said I liked Jed's demeanor because he wasn't trying too hard? It wasn't like he had a smile constantly plastered on his face or his eyes straining trying to prove that Hannah had his full attention. These attributes of his made watching him flirt and converse easy to watch. Now, the same goes for Tyler.
Speaking of Jed, both of my (now) favorite guys for Hannah had one-on-ones this week. Jed and Hannah took a stroll around Boston, shot hoops with the Celtics (too cool), and then had a dinner conversation that I found refreshing. Jed told Hannah he basically did The Bachelorette for the wrong reasons. As a musician living and pursuing his career in Nashville, he came on the show for a platform and for exposure. Everyone questions the cast member who is in the entertainment industry. I think every move made in this show and in relationships in general should be made with honesty and straightforwardness. It's best to admit to possibly shady motivates before getting caught with them.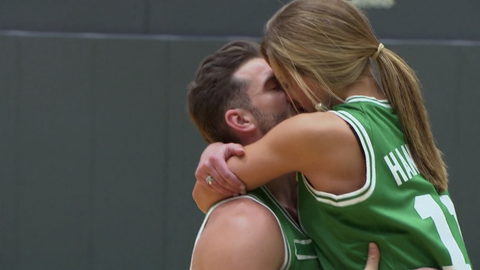 I remember being so nervous when Chris Soules asked me what I did for a living and I had to tell him I just graduated from graduate school with my masters in broadcasting and that I wanted to go into entertainment journalism. I thought he'd immediately assume I wasn't into him but into the opportunities the show could give me. He didn't seem to take any issue with it. Plus, when I was there—and very much into Chris—I didn't ever think of my career aspirations. I thought only of him. I even have an entry in my Bachelor diary saying that I would happily throw away those goals to marry Chris…The infatuation was strong for a while….
The bottom line is that no one signs up for the show solely to marry the lead. The important thing is to find a relationship that trumps all other prizes once you're in it. Jed proved this to be the case with him, while being completely up-front about his initial motives. Bravo, Jed! I'm glad Hannah heard him out fully in that conversation.
Okay, now for what you've all been waiting for. My last important takeaway of the night was the drama that unfolded between the Lukes. To recap, Luke P. played too rough with Luke S. on the rugby field even though he called it self defense. This incident helped define Luke S. as the guy who's going to be the most outspoken against this season's villain. Further drama ensued when Luke P. told Hannah that Luke S. was there to promote his yet-to-be-established tequila company. After a bunch of he said/he said, Luke P. told Luke S. he was going to take back his damning words and tell Hannah that Luke S. was actually here for the right reasons. But he didn't.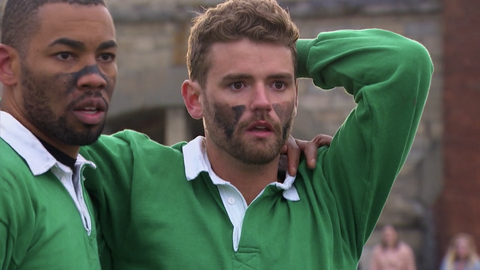 He did make our jaws drop though when he went to Hannah and said something along the lines of, "Luke S. wanted me to come here and tell you I think he's here for the right reasons." Luke S. never asked for this! Obviously, all the guys in the house are team Luke S. and they're standing up for him and they're vocally against Luke P. Meanwhile, Hannah's super upset that her authenticity meter may be off and that her "favorite" might be a bad guy. But here's the thing: I don't think that Luke S. will ever be the one to prove to Hannah that Luke P. isn't the guy for her. 1) She has to discover that on her own. 2) I don't think she feels particularly connected to Luke S. to begin with. She wants someone warm and comforting and I don't think those are two qualities that he possesses. She's just going to have to figure that out for herself.
Source: Read Full Article