Virgin River is a romance series at its core. However, the Netflix show has a ton of drama and challenging circumstances as well. The series follows Mel Monroe (Alexandra Breckenridge) and her lover Jack Sheridan (Martin Henderson). Though the pair are head over heels for one another, their romance isn't quite as straightforward as one might expect.
Not only do they both have tumultuous pasts, but someone is also trying to take Jack down. Though Jack's friend, Detective Mike Valenzuela (Marco Grazzini) appeared to be on his side at first, Virgin River fans believe Mike could be working with drug kingpin Calvin (David Cubitt).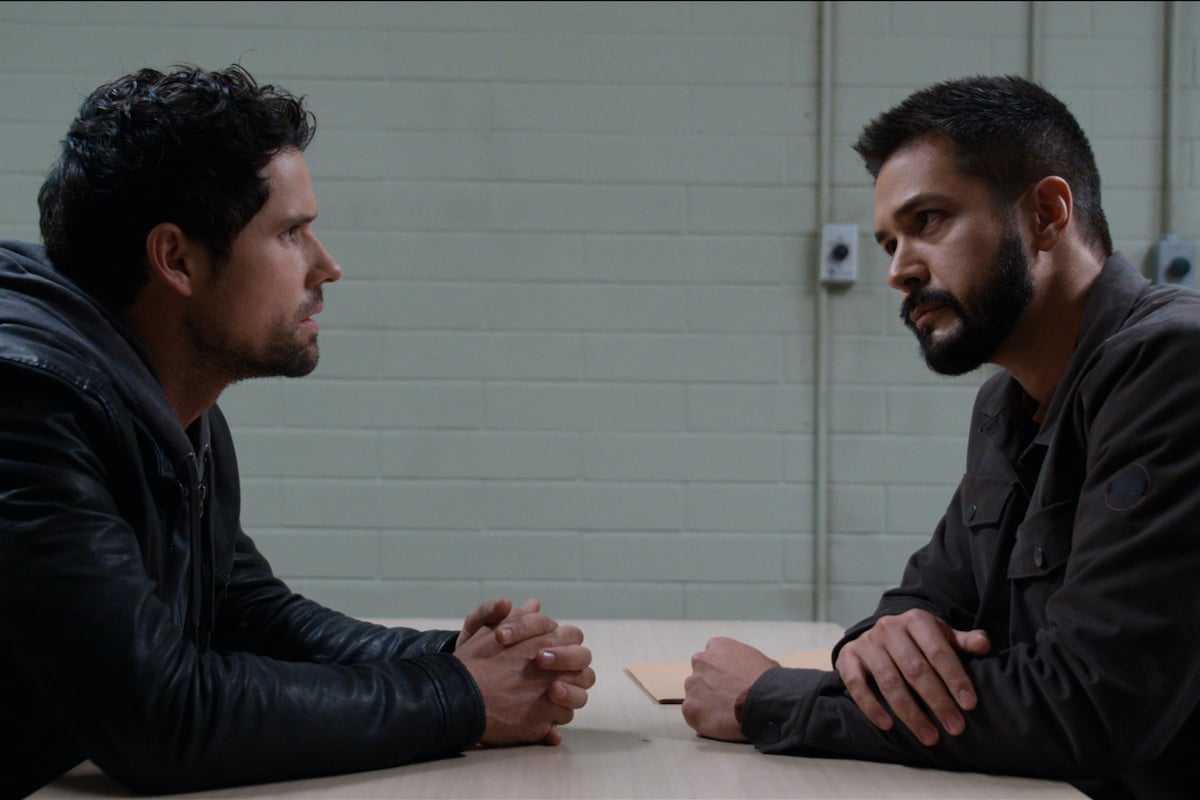 Mike has a dark secret on 'Virgin River'
When Mike arrives in Virgin River, the detective who is also a former Marine like Jack and Brady (Ben Hollingsworth), appeared to be in town to investigate Calvin for his various crimes in the community. Though Jack seems to think that Mike is trustworthy, Brady seems to know something about the former Marine that no one else does.
It seems like something went down when the three of them were on the final tour in Afghanistan. It's something that Mike seemingly wants to be buried because it would tarnish his carefully crafted reputation. However, Brady makes it known right away that he hasn't forgotten.
This seems to push MIke to make sure that Brady is arrested for shooting Jack, even though the evidence doesn't quite work out.
Mike and Calvin could be working together on 'Virgin River'
Virgin River fans are also suspicious of Mike. In fact, they believe that instead of working to put Calvin behind bars, the men are somehow working together meaning that Mike could be on Calvin's payroll. If you recall in the second season, Calvin ordered Brady to kill Spencer (Chad Rook), for betraying him. He told Brady that he needed to prove himself. Instead of following orders Brady helped Spencer escape town.
Though Brady convinced Calvin he'd done as he'd asked by season 3, Calvin had uncovered the truth. Now fans believe that was all due to Mike. "It seems to me that Calvin only figured out that Spencer was turning on him after Jack told Mike about it," one Redditor said via Express. "There seems to be a dodgy connection between Calvin and the police, the gun planted in Brady's car and Calvin being tipped off about the raid being other examples."
Another fan suggested that the plot was even bigger than anyone could have expected. "Mike knows more than he's saying. I think he is indirectly connected to Calvin. Someone he's reporting info to is on Calvin's payroll."
Did Mike frame Brady for shooting Jack?
Now fans are convinced that Mike went as far as to frame Brady for shooting Jack.  At the end of season 2, Jack was found bleeding from a gunshot wound in his bar. At the end of season 3, Mike and his team found the gun used to shoot Jack in Brady's car and arrested him for the crime.
However, none of this adds up. Henderson is not even convinced Brady pulled the trigger. "I'm hoping that there's room for healing around the Brady-Jack relationship at some point," he told TV Insider. "There's a brotherly love there and I think the kind of bond that can only exist between people who were in war zones together. It's such an intense situation and that sense of connectedness [and] loyalty is very, very deep. It'd be nice to maybe see some of that healed. That would be especially difficult if Brady had been the one to try to kill Jack."
Fans will have to wait until Virgin River Season 4 to unpack what happened.
Source: Read Full Article