We're just a few weeks out from The Bachelor's season finale, and we're no closer to finding out who Peter Weber ends up with. But thanks to Bachelor spoiler source Reality Steve, it looks like we know who he doesn't end up with.
Reality Steve already spoiled that Peter's final two contestants would be [STOP READING IF YOU DON'T WANT TO BE SPOILED] Hannah Ann Sluss and Madison Prewett, but it's unclear whether or not he's currently single, engaged, or dating. However, Reality Steve claims that regardless of Peter's current relationship status, he's probably *not* with Hannah Ann.
According to RS, Madison self-eliminates and Peter goes after her—though it remains unclear if they're together: "One thing I'm almost certain of is that post-show, Peter absolutely spoke with Madison to try and make it work between them," Steve said in a post on his website. "But honestly, I don't know if it did and I don't think any of us will until the ATFR."
Meanwhile, details of how Hannah Ann and Peter left things are unclear, but Reality Steve claims he's "almost positive" Peter's not currently with Hannah Ann (though it's unclear if he was at some point):
Guess we have to wait and see how this all shakes out, but it looks like a ton is still up in the air and only Peter knows what really went down.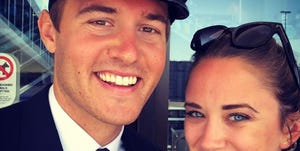 Source: Read Full Article