If you're into thriller TV shows based off real-life events, HBO Max's newest limited series The Staircase is definitely for you. The story is about the infamous Michael Peterson murder trial and the death of his wife Kathleen after she fell down the stairs. A docuseries about it all came out in 2004—and is now available to stream on Netflix—but HBO Max's version is a scripted, dramatic retelling.
Here's everything we know about when new episodes of The Staircase will be available.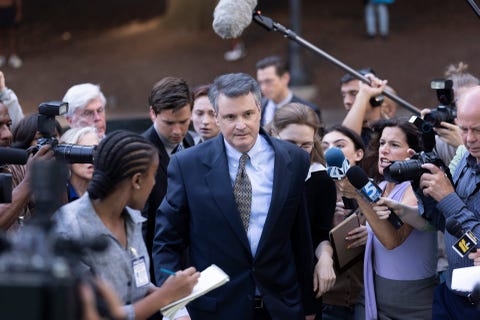 When do new episodes of The Staircase come out?
The show premiered its first three episodes on Thursday, May 5 which was justttt enough to suck viewers all the way in while still leaving them salivating for more. The rest of the episodes will air each week on Thursdays starting at 3 a.m. ET on HBO Max.
How many episodes of The Staircase are there?
Because this is a miniseries, there will only be eight episodes total, running through June 9. The fourth episode "Common Sense" was released yesterday, so here's when the last four episodes will be available:
How long is each episode?
Each episode is just more than an hour long, with the longest up to 68 minutes.
Source: Read Full Article