The long winter wait for the Billy Gardell and Folake Olowofoyeku sitcom fans has ended. Season 3 of Bob Hearts Abishola's new episodes return in the New Year. CBS has revealed that January will have not one, not two, but three new episodes of Bob Hearts Abishola Season 3. Here's everything we know about the upcoming adventures for Bob and Abishola.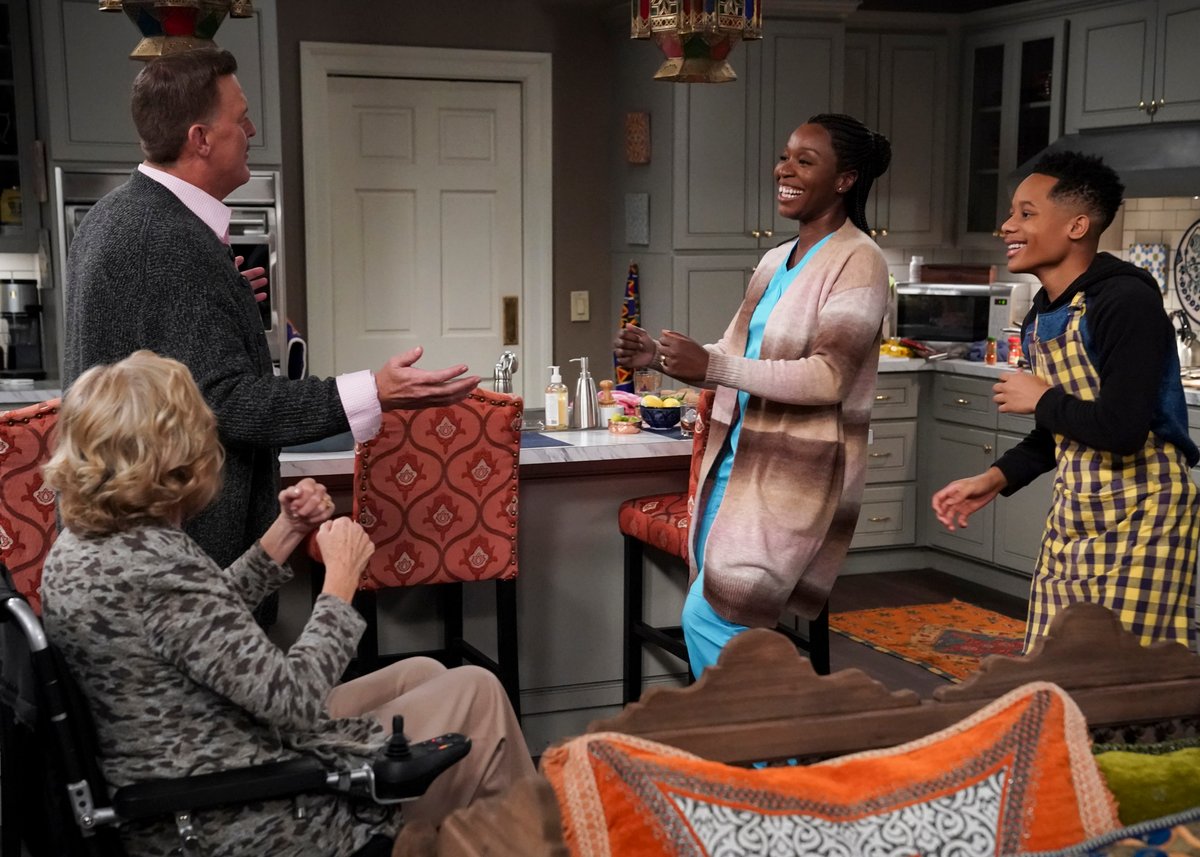 The 'Bob Hearts Abishola' new episode for January 3, 2022, marks the first of the New Year
When Bob and Abishola flew to Nigeria when her ex-husband, Tayo, tried to keep Abishola's son, Dele (Travis Wolfe Jr.), in Nigeria, she decided he should stay for a time. In Bob Hearts Abishola Season 3, Episode 9, "I'm Not Edsel," Bob surprised Abishola when Dele came to visit.
However, his visit came with a catch. Abishola's critical mother, Ebun (Saidah Arrika Ekulona), also came to America. In just one episode, she gave the couple plenty of headaches.
On January 3, 2022, new episodes of Bob Hearts Abishola Season 3 returned with episode 10, "Tunde123." It looks to follow up on the plotline of Dele visiting America.
"When Abishola finds out Tayo has given Dele a credit card, she worries he's being spoiled and becomes stricter with him. Also, worried she's being too harsh, Bob goes behind Abishola's back to do something special for Dele," the episode description on Futon Critic reads.
Goodwin actor Bayo Akinfemi directed the episode, his directorial debut for the series.
Another 'Bob Hearts Abishola' new episode arrives on January 17, 2022
The Chuck Lorre sitcom has no plans to slow down in the New Year. Bob and Abishola have their hands full with Abishola's mother and son. However, fans hope to see some plotlines continue with the rest of the Bob Hearts Abishola cast.
CBS revealed the title for the January 17, 2022 new episode of Bob Hearts Abishola as "Cats in a Bathtub." A synopsis has not been revealed.
While Bob and Abishola's romance remains central, the other Wheeler children could have their own on the horizon. Christina (Maribeth Monroe) has gotten flirty with Kofo (Tony Okungbowa) at MaxDot. However, after recently leaving the company, she might need new ways to get time with him.
Douglas (Matt Jones) found a possible love interest himself in the bus driver Olivia (Edy Ganem). She guest-starred briefly, but the two characters had instant chemistry.
The following season 3 chapter comes on January 24, 2022
While CBS has released very little info about Bob Hearts Abishola Season 3, Episode 12, they have scheduled it to air on January 24, 2022.
However, Bob Hearts Abishola Season 3 has plenty of plotlines to follow up on in new episodes. One of the more shocking moments came when Douglas Wheeler witnessed his mom, Dottie (Christine Ebersole), stand up briefly.
Early in Bob Hearts Abishola Season 1, Dottie suffered a massive stroke and became wheelchair-bound while she recovered. Abishola has helped her through therapy, but she remained in the chair.
However, when she thought no one else was around, she stood. She swore Matt Jones' Douglas to secrecy, but a secret like that cannot stay quiet forever. It could likely return in Bob Hearts Abishola new episodes in 2022.
Source: Read Full Article