It was in the end one punch from nowhere that kept Dillian Whyte from being one punch from boxing's Promised Land on a neon lawn in Brentwood, Essex, late on Saturday night.
Whyte's wait of over 1,000 days as the leading contender for the WBC's portion of the heavyweight championship came to a truly sickening end in round five when Alexander Povetkin connected with the finest punch of his life. Povetkin was losing and in trouble before the salvation punch.
A round earlier Povetkin was sent tumbling to the canvas twice and I had to ask myself if the 40-year-old Russian veteran was about to become an old-man overnight. It looked that way, it looked like a brilliant piece of matchmaking.
Download the new Independent Premium app
Sharing the full story, not just the headlines
In the fourth, the second of the knockdowns came just before the bell when Whyte connected with a left hook off the ropes and Povetkin was over. The bell saved Povetkin at that point. Earlier in the round, two rights and another left hook had dumped Povetkin heavily on the spot and Whyte looked calm and dangerous. But never overconfident, he's too smart for that. All Whyte had to do was not get caught clean, but this is heavyweight boxing and, as tiresome as it sounds, one punch really can change your life, the fight and end the night.
There will now be long inquests, opinions shared and abuse no doubt in defeat for Whyte; here is a raw fact and it might be uncomfortable for those looking to reinforce an agenda: There was nothing that Whyte could have done to avoid that final punch. Not a thing, trust me. It was perfection under the lights inside the ring that Eddie Hearn, the promoter, created for Fight Camp, the garden venue without fans where Whyte's hopes vanished.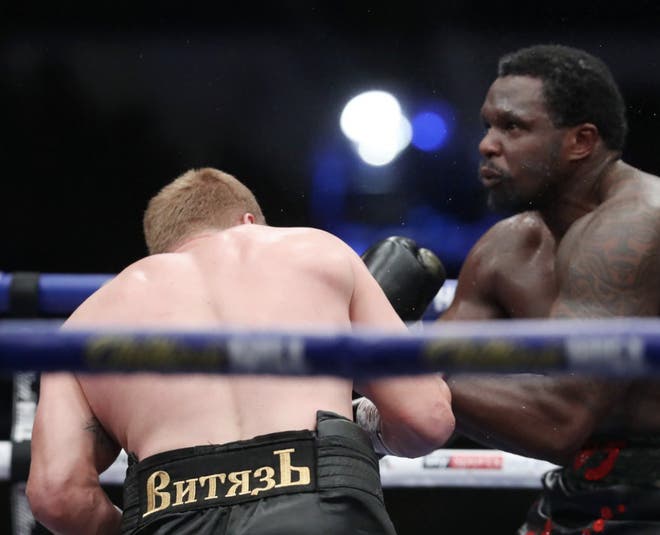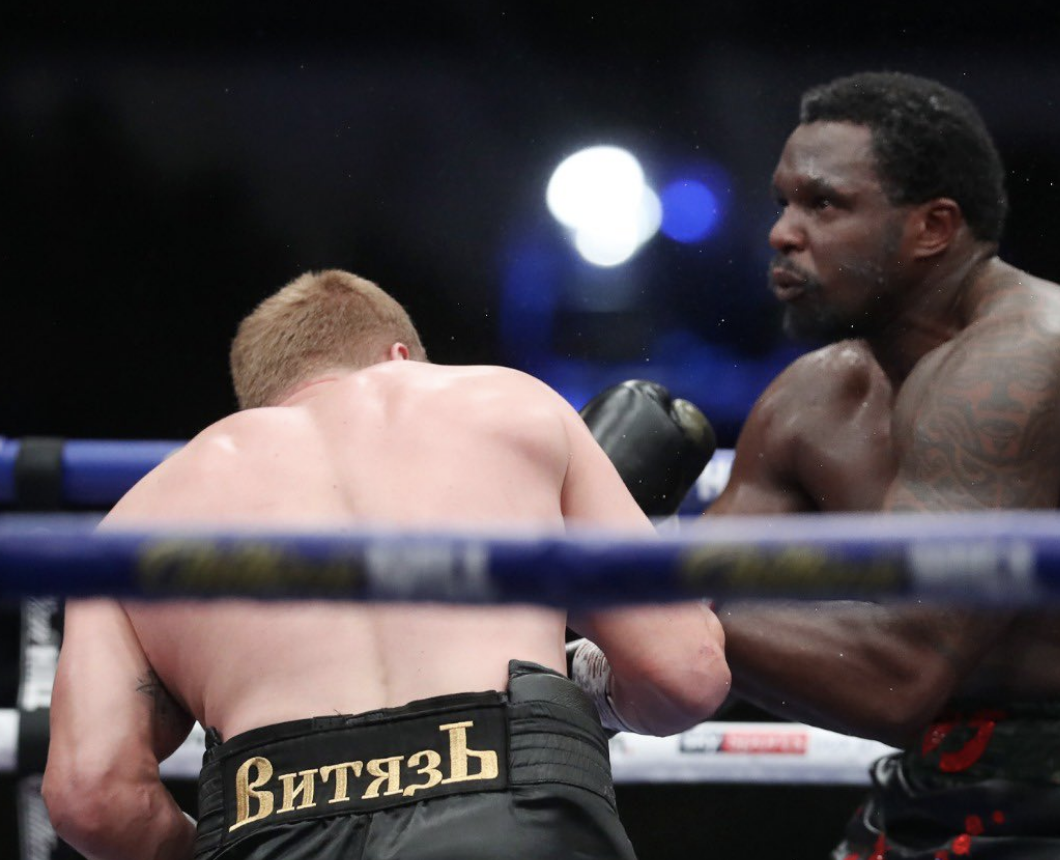 However, in the fourth round two minutes and twenty seconds were left on the clock when Povetkin went down for the first time and there will be an argument that Whyte should have moved with more urgency to finish it. The simplicity of that argument is flawed by the second knockdown in the fourth, close to the bell, which appeared to suggest that Povetkin's days were over and that his night was nearly finished. And, that Whyte had been wise not to lose his mind trying to finish the fight.
Whyte had promised not to rush his work, not to fall in, not to leave himself exposed to Povetkin's short punches, but knowing and doing in the land of heavyweights are two very different things. Trust me when I tell you that under the clouds late on Saturday night, in the rare confines of the latest behind-closed-doors boxing event, nobody was screaming at Whyte to be cautious as the fifth round started.
It looked over, Povetkin even rose from his stool with the resigned look of a man who knew, after two knockdowns, that his night was not going to get any better. And then it happened, a heartbreaking moment of genius from Povetkin.
And so Povetkin, gulping in the chilly air, came out for round five and Whyte met him. There was no aimless rush by Whyte, no cavalier streak of fatalism and no suggestion that the seconds were ticking down before the end. It looked for ten or more seconds like Whyte would connect again, Povetkin would go down and glory would reign. It was a mirage in Essex.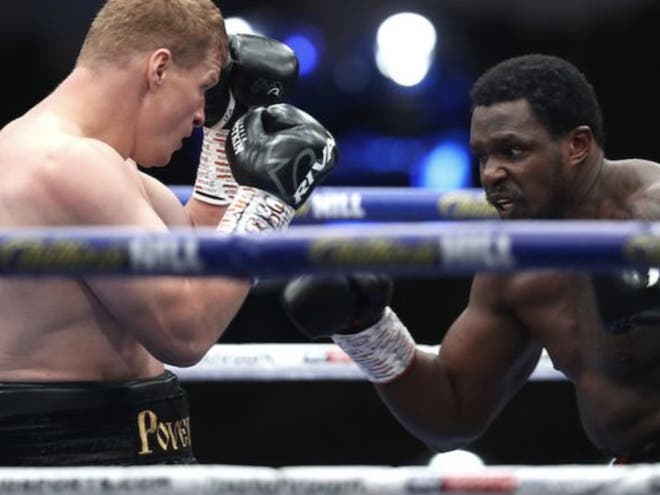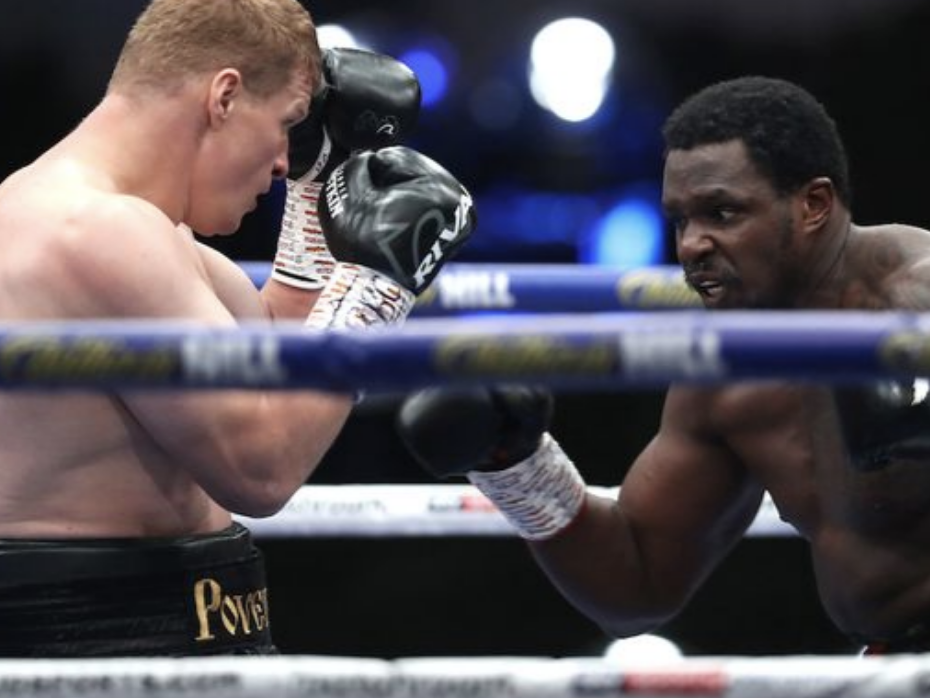 It was a real wow moment, a finish so pure to be beautiful and disturbing in the same dream-like instant. Whyte was dropped, knocked out clean and cold by the sweetest and cutest of short left uppercuts after just 30 seconds of round five. His head landed under the ropes and the referee immediately signalled that there would be no count, no more boxing for Whyte.
The punch was sublime, a slick mix of timing, power and guile. Povetkin had thrown the punch twenty times to the body in the fight, but at the very start of the fifth he switched to the head and the subtle change meant his fist ghosted through Whyte's guard to end the fight. Whyte never saw it, nobody saw it; it was pure stealth, all damage.
It was over, the wait was finished, the night was done and in silence Whyte regained his feet, then sat and no doubt looked at the darkness of that last punch as medics in plastic smocks checked for his vitals.
Whyte was ruined, the 1,000-day wait for justice was ancient history, any fantasies came to an end in the silence of the night and boxing had a new, disturbing and cruel example of what can go wrong in a blink of an eye. Whyte asked for a rematch when he spoke to Hearn, who looked shell-shocked from the fight's sudden ending. Hearn said it can happen, perhaps by the end of the year.
Whyte is probably already sick of people telling him that he had no reason to fight Povetkin, that he was guaranteed a fight with the Tyson Fury, the WBC heavyweight champion. But Whyte is a fighting man and he wanted to meet Povetkin, the last fighting product left from the Soviet regime, the sole survivor of a system so revered and hated. Povetkin is a Red Square warrior, the final candidate from a lost time.
Povetkin will be 41 by time he has to fight Whyte again, still a dangerous relic in a lunatic division. Anthony Joshua, a loser and immediate winner of a rematch last year, insisted that Whyte would be back and that he would win the rematch. "He's not a bad fighter, he just got beat," he said, before looking out at the empty ring and adding: "I know about that." Joshua was dropped and stopped by Any Ruiz in June 2019 and boxed a dream 12 rounds to beat Ruiz in December.
All Whyte had to do was wait, fight a lazy American and then go to the bank in a sanctioned, ordered fight against Fury. Instead, he followed his fighting heart, surely one of sport's most contrary organs, and was brilliant for four rounds and about 29 seconds, and then bang. That, folks, is heavyweight boxing.
Source: Read Full Article