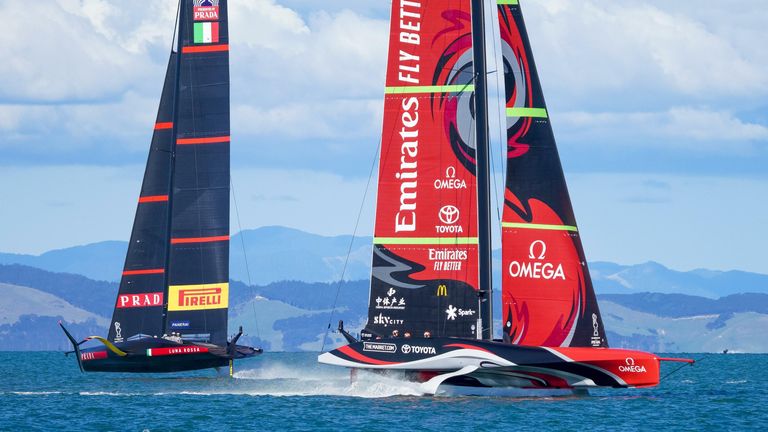 The defender and the challenger of the 36th America's Cup – Emirates Team New Zealand and Luna Rossa Prada Pirelli – remained locked after the first two days of racing.
Exactly like the opening day on Wednesday, the two teams enjoyed a victory apiece on Friday, which ensures that the contest for the oldest trophy in world sport remains finely balanced at 2-2.
Both outfits had spent Thursday's day off training and working on their race boats, and now they will race on successive days until a winner is decided.
36th America's Cup – Live on Sky Sports from 3am each race day
In the first race of the day on Friday, as they did during the PRADA Cup Challenger Selection Series, Luna Rossa Prada Pirelli showed their agility in the lighter conditions.
With a wind speed of around 9-10 knots, the Italians secured a 37-second victory. Emirates Team New Zealand then responded strongly, with a 63-second triumph of their own in the fourth race.
This America's Cup Match is a first-to-seven victories series and lighter wind speeds are forecast again on Saturday.
With host city Auckland moving back to COVID-19 Alert Level 1, all race courses will now be available for the organisers to select between, as opposed to the limited number which were initially used to try and prevent crowds gathering onshore.
Watch every moment of the America's Cup challenge, live on Sky Sports. Coverage continues with the third race day of the 36th America's Cup Match on Saturday from 3am.
Source: Read Full Article