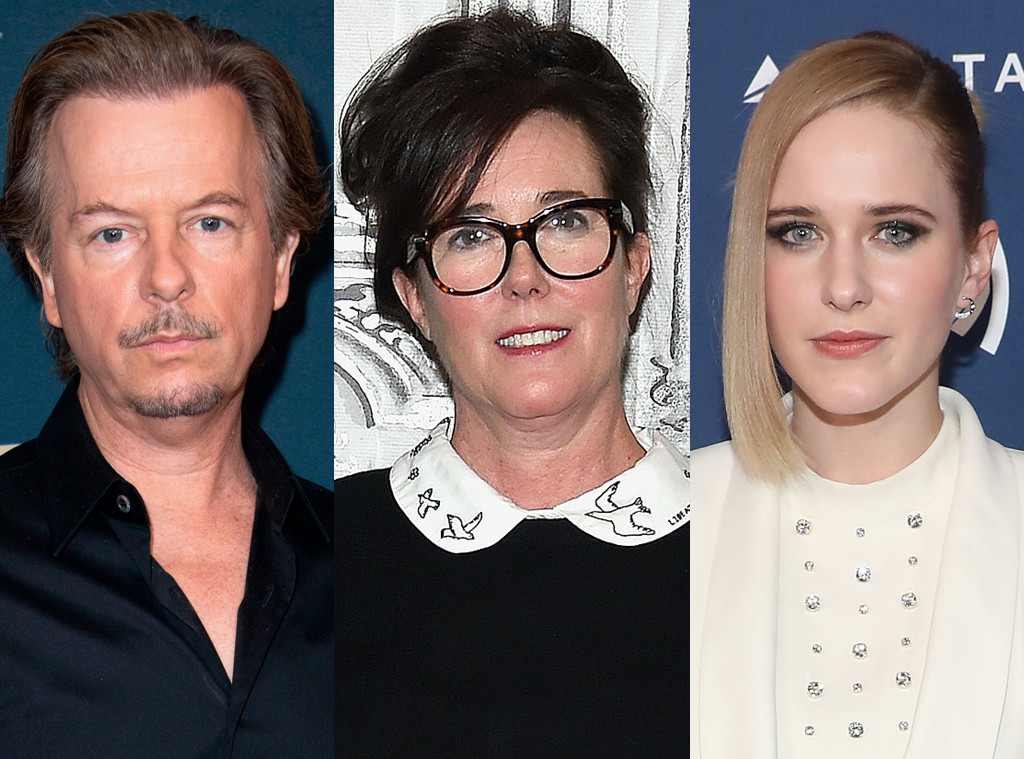 VALERIE MACON/AFP/Getty Images, Taylor Hill/Getty Images, Ben Gabbe/Getty Images
Kate Spade's family and loved ones are paying tribute to the fashion designer on the first anniversary of her death.
The Marvelous Mrs. Maisel star Rachel Brosnahan shared an older photo of Spade, who is her aunt, on Instagram. In the picture, she wears black slacks, a white button-down shirt and a tan sweater. Her hair is up in a big ponytail and held back by a black bandanna. She's looking off into the distance with a big smile on her face and looks like she's in the middle of laughing. Spade stands near a picnic table with some grass behind her.
"Missing Katy B today," Brosnahan captioned it. Spade's maiden name was Brosnahan.
Spade's brother-in-law David Spade also paid homage to the late designer. The actor shared a picture of the two of them together at an event and he captioned it with a heart emoji.
Kate Spade New York, the company that she and her husband Andy Spade founded together, uploaded a series of posts about her on Instagram on Wednesday.
One post was a quote card that read, "She leaves a sparkle wherever she goes."
Kate Spade New York wrote, "she was smart, chic, artful, witty, timeless, charming, trailblazing, gracious and so much more: kate spade inspired millions of women to stand out in a crowd. we honor the life of our visionary founder and all the joy and beauty she brought into this world. her vision inspires us every day."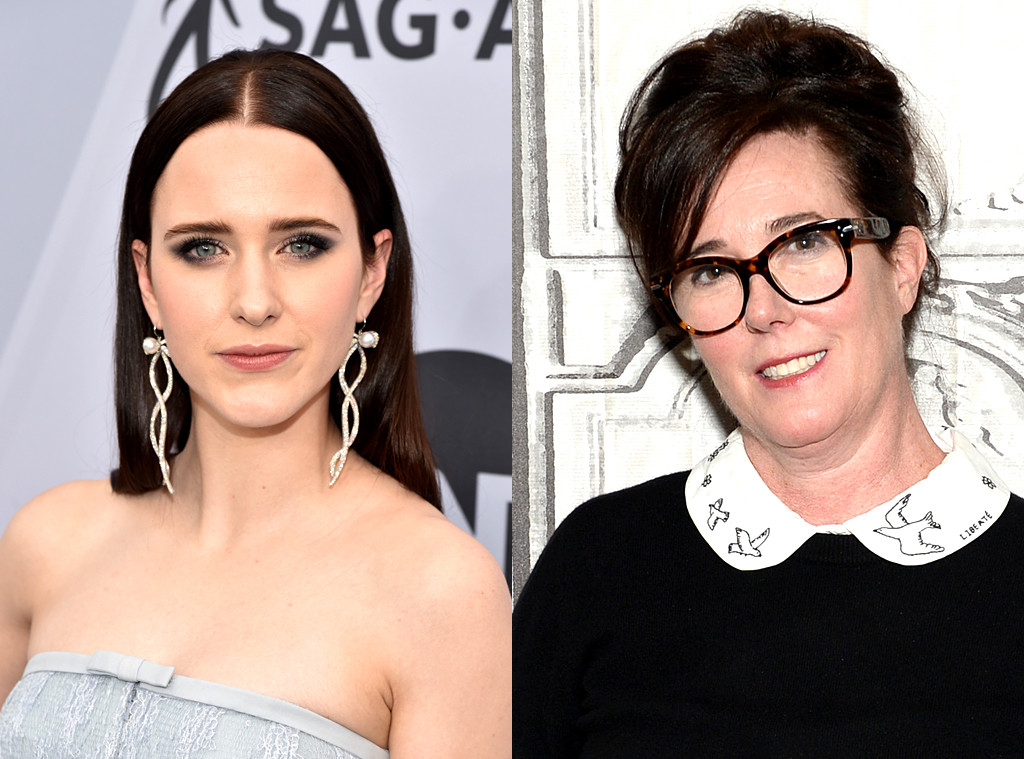 John Shearer/Getty Images for People Magazine, Andrew Toth/FilmMagic
The company announced on Wednesday that they completed a $1 million pledge and the money would be donated to a number of mental health organizations, including The Jed Foundation, Fountain House and The Didi Hirsch Foundation. They said they will match all donations made between now through June 12.
The businesswoman's close friend Elyce Arons wrote a first-person essay about Spade in People and reminisced on their past together and their years as friends. Spade and Arons founded the company Frances Valentine together, which Brosnahan is now the face of. They became best friends at the University of Kansas and that friendship carried them from the Midwest to New York, where they achieved their dreams of creating businesses together.
"It's difficult to talk about a loved one who's taken their life, and hard not to be angry with my friend who has left me so heartbroken. I am constantly thinking of her family and think of her everyday," Arons wrote.
She said, "I hope that anyone reading this who needs help will know that loved ones are there for them, I pray that they will seek that help. Most of all, I hope that people will remember Katy, the best friend that anyone could ever dream of having — the funny, intelligent, sweet, sophisticated, whimsical, gracious woman I knew."
View this post on Instagram
? Missing Katy B today ?
A post shared by Rachel Brosnahan (@rachelbrosnahan) on
Spade was found dead on June 5, 2018 in her Manhattan apartment. A day after her death, Andy Spade released a statement and expressed profound grief for his late wife, who was 55.
"Kate was the most beautiful woman in the world. She was the kindest person I've ever known and my best friend for 35 years. My daughter and I are devastated by her loss, and can't even begin to fathom life without her. We are deeply heartbroken and miss her already," he wrote.
His statement continued, "Kate suffered from depression and anxiety for many years. She was actively seeking help and working closely with her doctors to treat her disease, one that takes far too many lives. We were in touch with her the night before and she sounded happy. There was no indication and no warning that she would do this. It was a complete shock. And it clearly wasn't her. There were personal demons she was battling."
Andy revealed that he and his wife were "living separately, but within a few blocks of each other" when it happened. Their daughter Frances Beatrix Spade, who goes by Bea, lived with both parents and they "saw each other or spoke everyday."
"We ate many meals together as a family and continued to vacation together as a family. Our daughter was our priority. We were not legally separated, and never even discussed divorce. We were best friends trying to work through our problems in the best way we knew how. We were together for 35 years. We loved each other very much and simply needed a break," he wrote.
The 56-year-old said his late wife "was actively seeking help for depression and anxiety over the last 5 years, seeing a doctor on a regular basis and taking medication for both depression and anxiety."
Take a look at the gallery below to see Kate Spade's life in pictures.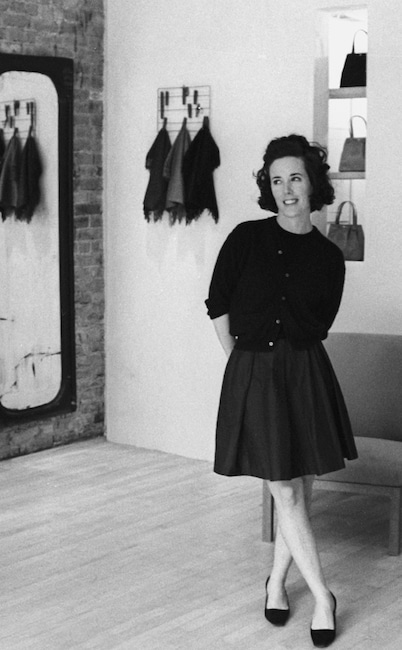 Kyle Ericksen/Penske Media/REX/Shutterstock
1962-1996: The Birth of a Brand
Born Katherine Brosnahan, Kate Spade entered the world on Dec. 24, 1962. She grew up in Kansas City, Mo. and later attended the University of Kansas, where she met her future business partner Elyce Arons. The two later transferred to Arizona State University, where she met her future husband Andy Spade. Kate graduated with a journalism degree in 1985 and went on to work at Mademoiselle magazine in New York. Then, in 1993, she launched the handbag brand, Kate Spade, with Andy. The two married in 1994. Three years into her business, the two opened their first storefront in Soho and won the International Award from the Council of Fashion Designs of America.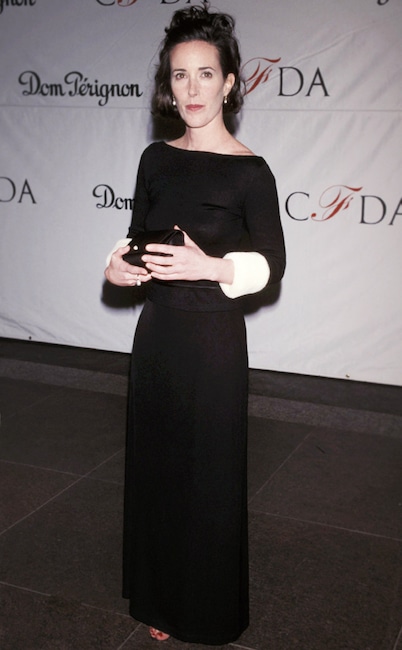 Ron Galella/WireImage
1998: Kate Wins Her Second CFDA International Award
Two years after her first win, the designer brought home the International Award for her influence.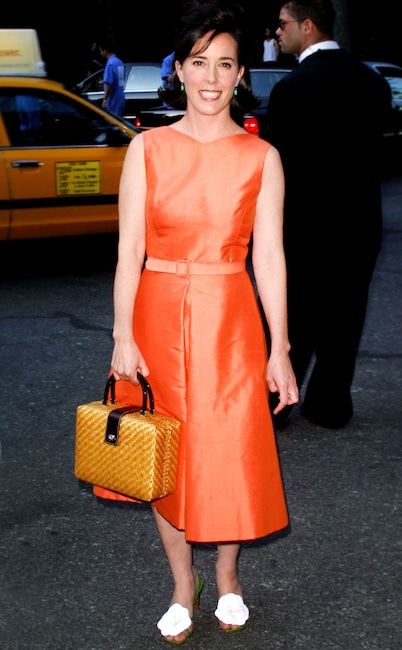 Jim Spellman/WireImage
1999-2002: Kate Introduces Jack Spade and Cosmetics
In the late '90s and early 2000s, the success of the brand continued to grow, venturing in menswear and men's accessories through their new company, Jack Spade. Kate also expanded her feminine line into cosmetics, partnering with Estee Lauder, shoes and fragrance. According to Forbes, Kate sold 56 percent of the company to Neiman Marcus in 1999 for $34 million.
Article continues below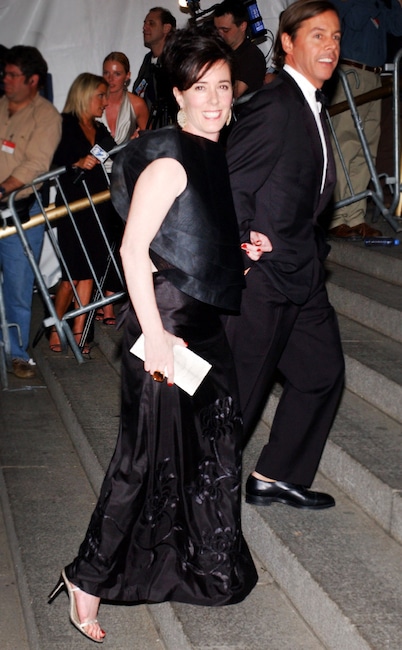 Jim Spellman/WireImage
2003: Follow the Leader
Kate, as seen here at the Met Gala with Andy, was a clear leader in the accessories industry, staying at the forefront of the needs of the modern American woman.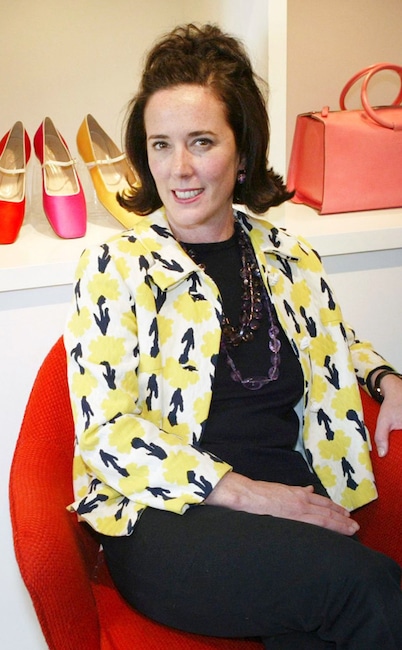 Bebeto Matthews/AP/REX/Shutterstock
2004: The Digital Storefront
As a leader in the accessories industry, Kate and Andy made the decision to move into e-commerce, becoming one of the first fashion brands to do so. Now known for their appealing storefronts, the designer and marketing executive aimed to bring their bright perspective online.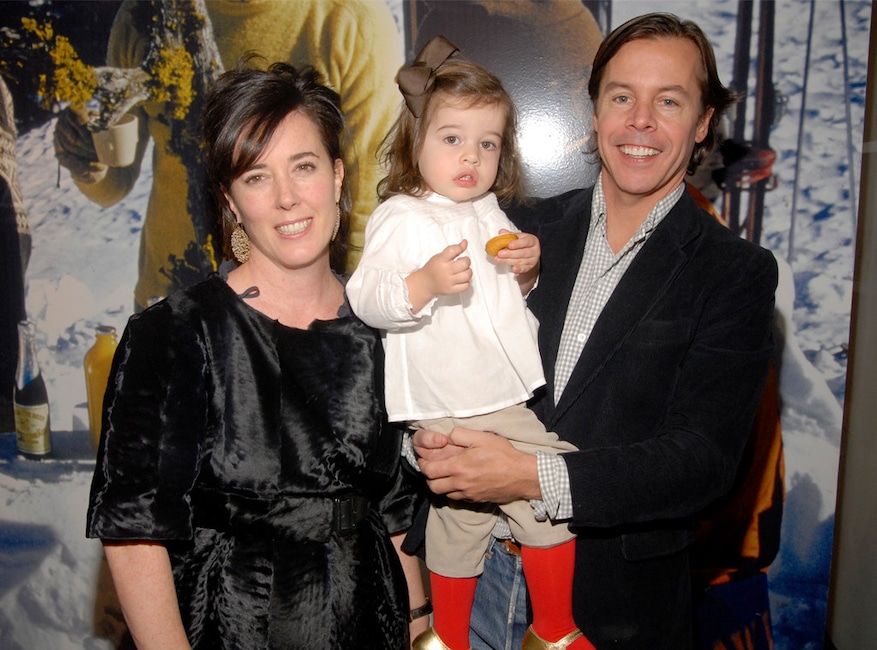 Clint Spaulding/Patrick McMullan via Getty Images
2005: A Family of Three
In 2005, the designer gave birth to her first child—a daughter named Frances Beatrix Spade ("Bea" for short).
Article continues below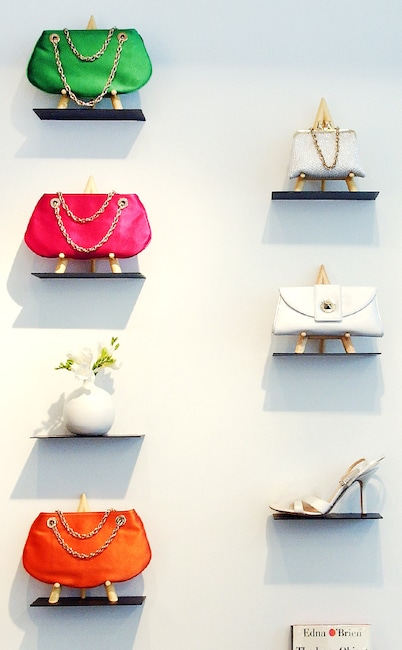 Bryan Bedder/Getty Images
2006: The Next Chapter
In 2006, the brand sold its remaining shares to Neiman Marcus for a reported $59 million, per Forbes. Liz Claiborne Inc. then bought the company for a reported $124 million. Kate and Andy left the company. Coach would acquire the company in 2017 for a reported $2.4 billion.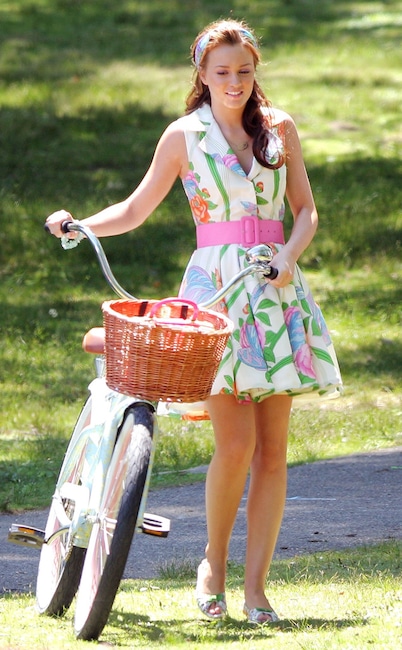 James Devaney/WireImage
2008: Her Design Legacy
Although Kate was no longer a part of the company, her unique sense of style continued to make a cultural impact, as seen here in CW's teen drama, Gossip Girl.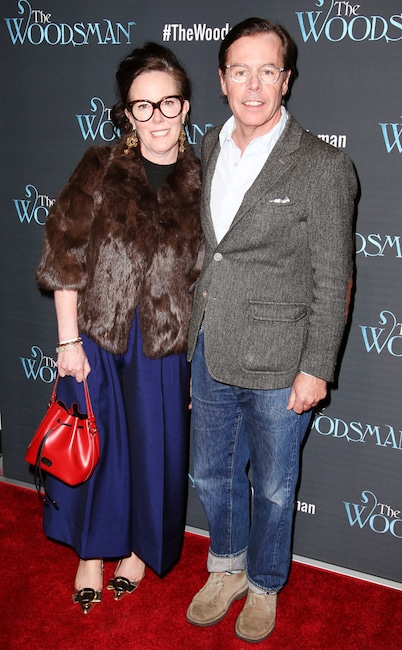 Walter McBride/Getty Images
2016: Back to Business
The dynamic business partners decided to start over with a new brand, Frances Valentine. Although the company had no affiliation to Kate Spade New York, it placed Kate's super-feminine, Americana aesthetic in the forefront, making the brands somewhat similar in design.
Article continues below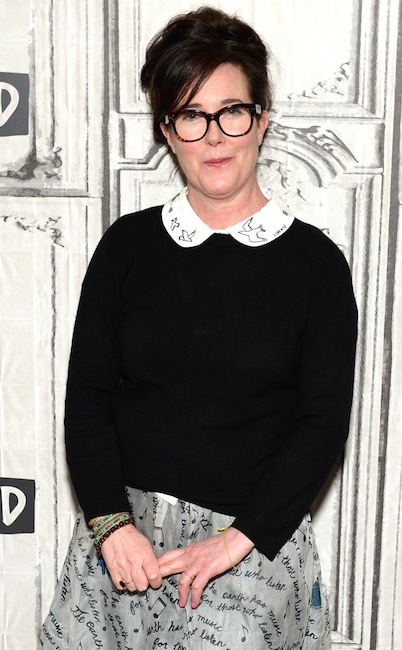 Andrew Toth/FilmMagic
2018: Kate's Death
Kate was found unconscious and unresponsive in her New York apartment on Tuesday, June 5, 2018. She was 55 years old. The Medical Examiner's Office ruled her death suicide by hanging.
Our thoughts go out to Kate Spade's family and loved ones today.
If you or someone you know needs help, please call the National Suicide Prevention Lifeline at 1-800-273-TALK (8255).
Source: Read Full Article