Nick Jonas and Priyanka Chopra showed up on the Met Gala pink carpet last night, and suffice it to say they've snapped. The theme of 2019's Gala was CAMP—something that had many people on Twitter deeply confused. And as you can probably tell from all the looks, tents weren't involved, and tragically neither was the iconic Disney film Camp Rock. Camp is actually a reference to Susan Sontag's 1964 essay titled "Notes on 'Camp,'" where she wrote "The essence of Camp is its love of the unnatural: of artifice and exaggeration."
Anyway, Priyanka stepped out looking incredible per usual, but we're here to talk about Nick Jonas who…looked vaguely familiar? Like, I'm almost 100 percent sure I've seen that devious face and pinkie ring before….on Game of Thrones. Because yes, dude looked exactly like the dearly departed Lord Petyr Baelish—aka the nemesis of Lady Sansa, icon who happens to be played by Nick's sister-in-law Sophie Turner.
And yup, Nick is aware of the resemblence:
https://www.instagram.com/p/BxJZsQBjsKO/
Sansa… We must protect the vale. #metgala #littlefinger
A post shared byNick Jonas (@nickjonas) on
The mustache! The pinkie ring! The way they're both clutching their hands—I CAN'T! Also Sophie Turner commented "quit trying to manipulate me…ugh I thought you died last season," which has pretty much made my entire day.
In conclusion: Met Gala but make it Game of Thrones.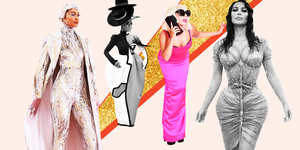 Source: Read Full Article