Long before Snugglepot and Cuddlepie, May Gibbs wrote a book about "a dear, nice little girl" and her dog, who get lost and have quite the adventure trying to find each other.
More than 100 years after the book became the first written and illustrated by the beloved children's author, it will be published in Australia.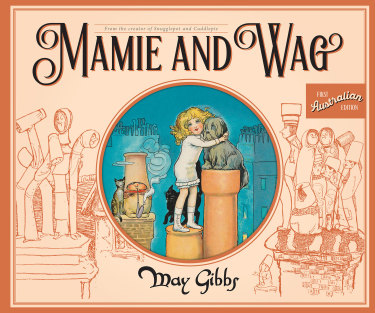 Originally set in Australia, Mamie and Wag was only published when the setting was changed to London.Credit:Courtesy of Scholastic
Called Mamie and Wag, the story is set in Edwardian London and details the adventures that unfold after a dog and little girl are separated from each other. Along the way, they meet a beggar girl, a king and a queen, lots of cats and some curious characters known as the chimney pot people, the latter inspired by chimney pots around London's Holborn.
Gibbs wrote the book under the pseudonym Silvia Hood and set the story in the Australian bush, complete with kangaroos and kookaburras. Gibbs was unable to find a publisher until she changed the setting to England, where it was published as About Us in 1912. According to Maureen Walsh's May Gibbs Mother of the Gumnut, the author received the grand sum of 20 pounds for the work.
In Australia, publisher HarperCollins was licensed to print Gibbs' work until 2019, when Scholastic took over. The latter is releasing the book and plans to publish a compendium of Gibbs' unpublished works in the next few years.
Stewart Reed, a historian who specialises in May Gibbs and runs tours at her former home in Sydney's Neutral Bay, said the book will have broad appeal.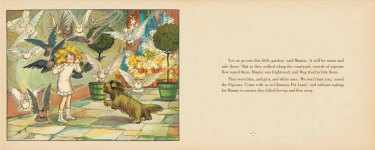 Pages from Mamie and Wag.Credit:Courtesy of Scholastic
"[The book] is very different to all her other work, but it's got a little girl, a dog, lots of cats and the chimney pot people, and that appeals to kids," he said.
"The message that is good for parents to reinforce for their kids, that they're not in this world alone. It's not exactly Buddhist for karma, but it goes part way down there."
May Gibbs illustration for a public health poster, 1919. Credit:The Northcott Society and the Spastic Centre
Creatures real and imagined were regular features of Gibbs' work, her imagination giving rise to an array of wonderful bush creatures. Reed says she was an innovator, producing postcards featuring gumnut babies and Australian animals during WWI, to be sent to soldiers fighting overseas. During the Spanish flu, she drew a postcard featuring a kookaburra and a gum leaf baby wearing gum leaf face masks.
Gibbs was, Reed argues, an environmentalist before there was even a term for it. A note at the end of Snugglepot and Cuddlepie reads: "Humans, Please be kind to all bush creatures and don't pull flowers up by the roots."
Detail from a 102 year old painting by May Gibbs of the Gum Blossom babies.
Born in England in 1877, Gibbs came to Australia when she was four. The family lived in outback South Australia and then WA, before moving to Perth. Her parents were both artists and taught her to paint. She joined art societies when she was young and went to art schools, winning her first art prize when she was 15. Later, she became a political cartoonist for newspapers and magazines as well as a writer. One of her oil paintings, Chrysanthemums, 1894, sold at auction this month for a record-breaking price of $32,000, more than 10 times its upper estimate of $3000.
Snugglepot and Cuddlepie has never been out of print and was first published in 1918. When she died in 1969, Gibbs bequeathed royalties of her creations jointly to the Northcott Society and Cerebral Palsy Alliance.
Mamie was Gibbs' childhood name; one wonders if she once had a dog named Wag and what sorts of fabulous adventures they had together.
Mamie and Wag by May Gibbs is published by Scholastic.
Most Viewed in Culture
From our partners
Source: Read Full Article