Maybe the first bad sign was when Kanye pulled out. Or when influencers started complaining about getting left out of Revolve Fest like their parents had uninvited them to Thanksgiving. But we all definitely knew something was majorly wrong by the time Remi Bader posted the (now-iconic) TikTok of her crying on a pedicab on a dusty, very bumpy road somewhere in the desert. Coachella 2022 is, somehow, not it.
"It's definitely giving Fyre Festival vibes," Tahnee Cook, a 27-year-old Coachella attendee, told Cosmopolitan. You may have seen Cook on TikTok, where she's been keeping followers updated on the attempted recovery of her iPhone, which was stolen, alongside dozens of others, at this year's festival. (Security, Cook added, was less than helpful.)
As Cook told Cosmo, she's been flying to the U.S. from her home in Sydney, Australia to attend Coachella for the past five years, and this year's fest is notably more chaotic. You've noticed it too, right? Coachella chaos—including the reported influencer drama at Revolve Fest—is bleeding into all of our TikTok feeds, and we're only halfway through the lineup. Some of the viral hits from last weekend include: Bader crying on the pedicab, Cook's stolen phone, a pink-haired influencer in a parking lot changing into an oversized liquor store T-shirt after not making it into Revolve Fest, and hours-long merch lines.
We tried to like coachella. We really did our best. But the world wasn't allowing it to happen for me 😂
To be fair, there are several reasons why Coachella 2022 may be extra chaotic: There's the ongoing COVID situation, and the fact that the festival has been canceled the past two years because of the COVID sitch. Everyone's a little rusty. It also might be that this is the first time we're seeing Coachella for what it really is—as Jasmine Melody, a 26-year-old Coachella attendee, told Cosmo, it's the first TikTok Coachella we've ever had.
"On Instagram, you can't really document a not-great experience," Melody said. "Especially not influencers, who are contractually obligated to have a good time, or at least make it look like they're having a good time."
But on TikTok, Melody pointed out, it's much easier for any old person to go viral, so our feeds are filled with shiny influencers sipping Kendall Jenner's tequila at Revolve Fest next to, well, real people, like Cook and Melody, whose 2022 Coachella experiences were…let's go with…subpar.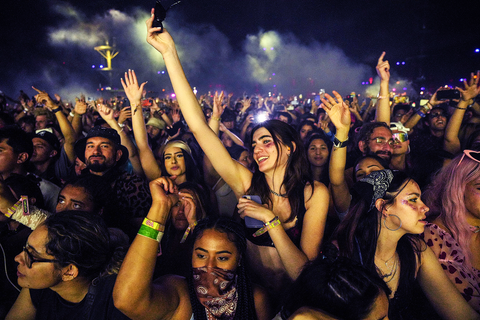 Melody's been going to Coachella for over five years, and said this year's festival definitely seemed "noticeably less organized." She said she waited in line for over three hours to park on Saturday, and ended up ditching the festival other days because the parking lines were so long. "This year I only ended up going to the actual festival for three hours the whole weekend," she said. This means she spent, by her estimate, over 12 hours in the car for a three-hour concert.
Like literally thousands of other people, Melody was longing to see Harry Styles' set. But the crowds, she said, were totally unmanageable. She gets freaked out in large crowds, and especially after the Astroworld Festival tragedy in 2021, she didn't want to risk getting caught up in a large group of unruly fans.
"The euphoria of seeing Harry Styles may not have been worth the trauma of everything else," Melody said.
Like Melody, Cook was also wary of the crowds, but mostly because, by her experience, security this year was pretty lax. (Coachella did not respond to Cosmopolitan's request for comment.) Besides her phone getting stolen—something she said security did nothing about—she and her friends got through the security lines with full bottles of water—an item that's definitely not allowed through the Coachella gates.
"No one checked our bags or anything," Cook said. "We just walked in, no one questioned us."
After flying across the country&standing in line for 5 hours I'm out a couple thousand $ but I got this cool shirt to cover me up so I could charge my phone&eat in a resturant nearby😍
Cook also said getting in and out of the festival was a logistical nightmare. No one she talked to on staff seemed to know where the Uber pickup spot was, and she and her friends kept getting sent to the wrong location. "It was just chaos," she said. "Everything about it was the worst organized."
Katelyn Darrow, 25, said she's been working at the lemonade stands around Coachella since 2017, and noticed that this year's festival was way wilder than in years past.
"It did feel a lot more unorganized to me," Darrow said. She added that the booth for picking up credentials ended up closing half an hour early one night. That may not sound like a huge deal, but some of the people, most of whom were festival workers, were waiting for camping credentials, and without them, they ended up stranded at the booth overnight, Darrow said.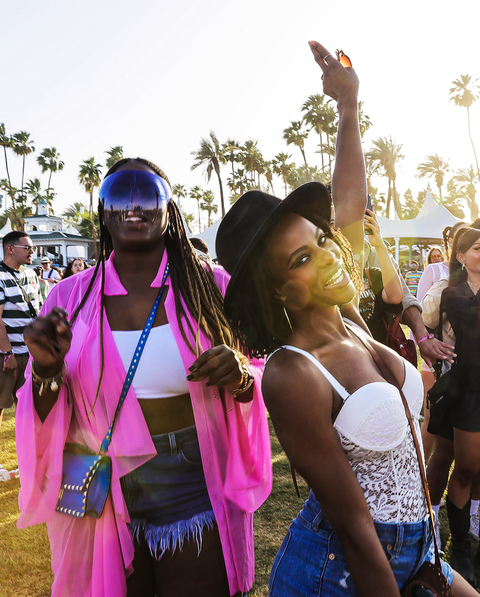 "Luckily, I had my car, so I slept in my car," she said. "But a lot of people didn't have anywhere to go. They were stranded, essentially."
When Darrow spoke to Cosmo, she was packing up her bags to head back out to Indio for weekend two, which, as she's heard and experienced, always tends to be a smoother ride.
As for Cook, she and her friends ended up pushing back their flights home to Sydney in order to try and recover their stolen phones. Cook alleges that someone swiped her phone—along with two of her friends' phones—literally off her body while in the crowd at Coachella. One of the phones has location tracking turned on, and shows up at an address close to Cook's hotel back in Los Angeles. But even if they get the phones back, Cook's not sure she'll return to Coachella in the future.
"I'm pretty traumatized, like having my stuff physically stolen off of my body," Cook said. "It does scare me to come back, and Coachella is usually the highlight of my year."
Source: Read Full Article