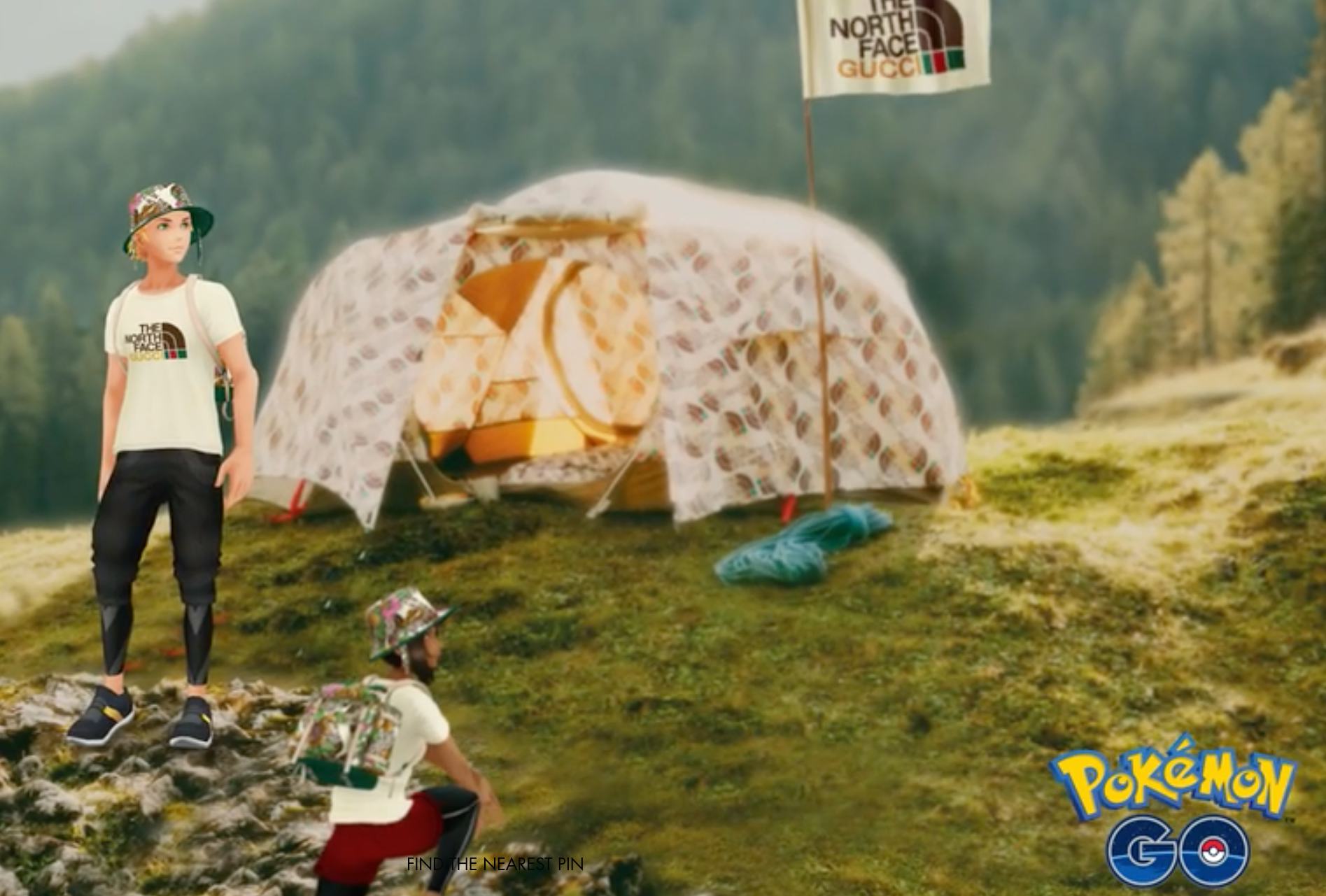 Nerd culture is here to stay, and 2021 proved that high fashion is here to embrace it. It turns out Marc Jacobs and Valentino were ahead of the game when they surprisingly partnered with Animal Crossing last year, because these days, spotting luxury goods in the virtual gaming sphere is becoming par for the course. Gucci and Balenciaga are chief among those letting their freak flags fly, but the storied maisons are hardly alone. See who else got geeky this year, here.
A year or so into an absurdly belated addiction to Pokémon Go, I can confidently state that absolutely no one thinks it's cool for an adult to be spinning Poké Stops, battling Team Grunt, and finally evolving a Magikarp into Gyarados. Imagine my surprise when I saw the app make headlines thanks to none other than Gucci. The storied house perplexingly partnered with what I recently learned is also known as PoGo (thanks to my lil' bro) at the start of 2021, as part of (another unexpected) collab with the North Face.
https://www.instagram.com/p/CNamRRMAhSB/
At this point, it comes as more of a surprise if a celebrity or major brand hasn't ventured into the realm of NFTs. (For those blessed enough not to encounter the acronym, it stands for "non-fungible tokens," meaning bragging rights to technical ownership of everything from Twitter co-founder Jack Dorsey's first-ever tweet to the "Disaster Girl" meme.) That wasn't the case back in April, when Kate Moss became one of the very first in fashion to join the techie fray, sending the fashion world a signal that NFTs were the real deal. A video vignette of the supermodel simply laying in bed, for example, sold for roughly $16,000, a portion of which went to fellow model Adwoa Aboah's nonprofit Gurls Talk.
https://www.instagram.com/p/CW4ro3CLLYz/
Zendaya's spine-tingling fall 2000 Roberto Cavalli dress made for one of the top celebrity vintage fashion moments of the year. It was also one of the nerdiest—though you'd have had to check the actor-slash-singer's Instagram Stories to tell as much. For their last throwback of the year, Zendaya and her longtime stylist Law Roach gave an obscure shout-out to Spider-Man villain Doctor Octopus.
The phrase "it's called fashion, look it up" is typically a meme, but the official Fortnite Twitter account meant it literally when announcing its collaboration with Balenciaga this September. For the unfamiliar, Fortnite is a shooter-survival video game that's amassed a cult following since launching in 2017. That's thanks in no small part to gamers whose only expendable income comes from their allowance—aka youngsters who not only can't afford Balenciaga, but may not have even heard of the high-fashion label in the first place. To the house's creative director, Demna, the partnership was a natural fit: It's thanks to Fortnite's developer, Epic Games, that he was able to present Balenciaga's fall 2021 collection via a custom (and occasionally glitchy) video game. What's more, Fortnite gamers spend just about as much time roleplaying and customizing their environments and looks, or "skins," as they do in battle—and they can now do the latter with a virtual Speed 3.0 sneaker that's been transformed into a pickaxe. As for the collab's IRL component, well, Fortnite users on Twitter didn't mince words when reacting to the price tags: "The hoodie is made out of yarn woven from the queen's ass hairs for it to cost that much," one quipped of a $725 sweatshirt. "Quality stuff."
Suffice it to say, Guccio Gucci never could have foreseen what Alessandro Michele had in store for the house's 100-year anniversary. After partnering with Pokémon and The North Face, and Hot Wheels, the house's creative director unveiled a collab that prompted headlines like "You probably can't afford this hideous Gucci Xbox" and "Gucci made an Xbox Series X for the one percent." (The 100 limited-edition devices, packaged in a box reminiscent of the house's signature monogram luggage, went for $10,000 a pop.)
For fall 2021, the New York-based label Collina Strada teamed up with the digital artist Freeka Tet and Animorphs illustrator David Burroughs Mattingly. Their high-fashion take on the science fantasy series, which follows a group of "animal morphers" who stumble upon an alien spaceship, made for a highly impressive digital feat, but didn't exactly make it easy to take in the clothing.
Jonathan Anderson is known for his obscure artistic references. He's kept them up this year—Loewe's spring 2022 collection, for example, was partly inspired by an Italian Mannerist painting dating back to 1528. Ever since January, the British designer has made a point to offer his support to Studio Ghibli, the Japanese animation experts behind cult films like My Neighbor Totoro and Spirited Away. He started off the year with a capsule collection dedicated to the former, and has another planned for the latter in 2022. Meanwhile, the house recently announced that it's sponsoring operations at Tokyo's Ghibli Museum for the next three years.
Source: Read Full Article