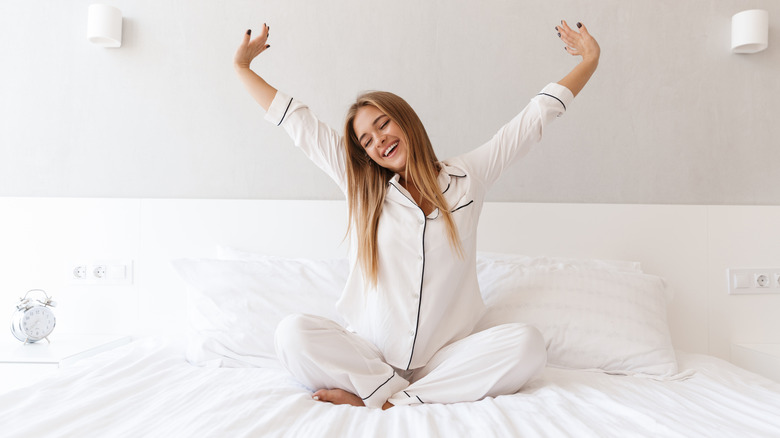 If you're on the hunt for the perfect pair of pajamas, you're not alone: according to Glossy, more time spent at home has meant a major increase in sleepwear sales, with a "ramped-up" interest in PJs across the world. With pajamas "in high demand," it's clear many of us are opting to wear our bedtime coziness a lot more than usual, paired with our favorite D.I.Y. oat milk lattes and work-from-home setup. So why not go for the best possible PJ options? Sure, stretchy leggings and luxe knit sets are great, but you don't have to go for loungewear and activewear trends to look chic at home. Great pajamas will do the trick and then some, complete in comfy fleece and flannel, body-skimming satin, and breathable cotton. And the best part? Amazon has some of the best sleepwear you can find, at truly wallet-friendly prices.
As per The Strategist, Amazon has an unbeatable selection of PJs that are top-quality yet affordable, boasting classic prints like plaid and tartan, traditional solid colors, and yeah, even some donut and unicorn graphics to put some pep in your morning step. Whether complete in cooling bamboo or the warmest-ever thermal fabric, Amazon's top-rated pajamas are vetted for optimal coziness – and they certainly deliver. With thousands of reviewers enthusing about these sets' "softness," "flirtiness," "cute factor" and impressive comfort level, there's certainly something for every sleepwear personality under the sun. Here, we've rounded up our absolute favorite Amazon pajamas that reviewers can't get enough of.
The silkiest Amazon pajama sets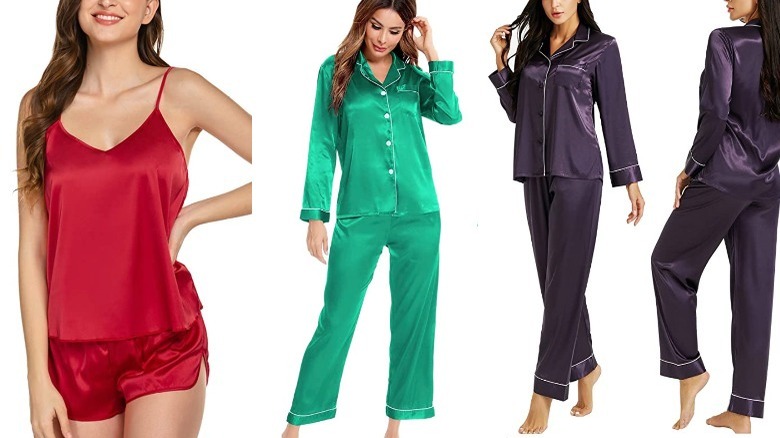 Channel Serena van der Woodsen's Upper East Side wakeup call looks with something just as silky-smooth and chic. We're obsessed with this Ekouaer Satin Pajamas Cami Shorts Set ($13.58-$21.24), which looks quite bougie while still being easy-on-the-wallet. A whopping 22,068 4.5-star reviewers call out their adoration from the rooftops: one buyer says, "it fit perfectly … I feel like a princess with these," while another agrees it "feels soft and looks sexy." More devotees say these PJs get "worn to bed every night" and "feel like a luxury brand but are so, so inexpensive," so we need these in every single shade.
If you prefer long, slightly-oversized silky pajamas, look no further than this SWOMOG Silk Satin Button Down PJ Set ($26.99), which manages to be classic and fashion-forward all at once. We can't get enough of the bright emerald green shade, but also love the navy-and-white polka dot and candy-cane red stripe colors. Thousands of 5-star reviewers say these pajamas are "how to pretend that your life is put together" and "perfect for bridesmaids." Plus, Southern Living says "even loungewear snobs are obsessed" with this seriously-luxe set.
When in doubt, go for something in purple satin for the most regal and glam of PJ looks — total "Gossip Girl" vibes. This Lonxu Satin Pajamas Set ($28.98) features piping, covered buttons, and the silkiest of fabrics, with more than 11,000 enthusiastic reviewers saying they're "the softest pajamas" and the best Victoria's Secret sleepwear dupe out there.
Keeping cool in shorts sets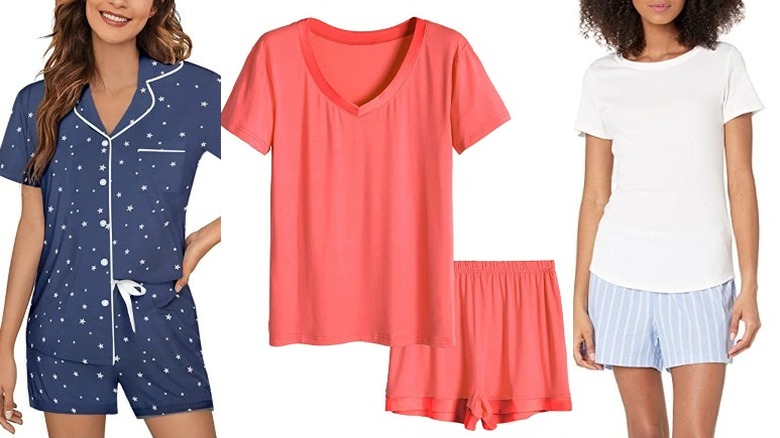 We all have a different sleepwear-style, as unique to each of us as our favorite food (right answer is pizza, we don't make the rules). While some of us love all the warmth we can get come bedtime, others love bringing down the AC temperatures to North Pole-esque lows. If you run hot, your best bet is a breathable PJ set with light, loose shorts.
Drooling over Eberjey's cult-fave $100-plus pajamas? We suggest you look into these ah-mazing Ekouaer Short Sleeve PJs ($30.99-$32.99). They're the best dupe for Eberjey's Short PJ Set ($90.50) at a fraction of the price, and the navy-and-white star print is the graphic-combo of our dreams. The viscose material is velvet-soft, with hundreds of reviewers saying this set is "buttery," "flattering," and "Victoria's Secret's competitor."
The perfect pajamas don't exi — scratch that, they definitely do. Try out this cooling Latuza V-Neck Short Sleeve Pajama Set ($26.99-$28.99), which People says is the best PJ for "sweat-free nights for the rest of the summer." The innovative bamboo fabric is downright-icy to the touch, with more than 8,000 reviewers saying these pajamas are "soft," "refreshing," and "the only short PJs" they will ever buy.
We love anything multi-functional, and the top part of this Amazon Essentials Women's Poplin Short and Sleep Tee Set ($18.50) can double as the perfect t-shirt for everyday use. This Amazon basic is high-quality in a 97% cotton blend, featuring poplin striped boxer-shorts and a tee that's "heavenly to wear."
We love these neutral, go-to PJ sets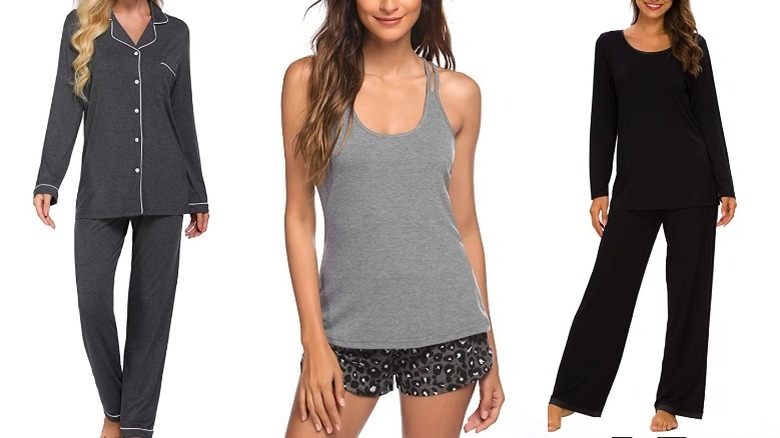 Don't get us wrong — we love a good graphic print, and can't get enough of stars, stripes, polka dots, and everything in between. But sometimes you want to keep things sleek, especially when it comes to PJs you'll wear everyday. 
Ekouaer's Soft PJ Lounge Set ($43.99) is the best dupe we've found for Eberjey's iconic Gisele Long PJ Set ($120) for much cheaper. Although we adore this charcoal-gray, we're eyeing the yellow, salmon, and deep green colors, too. This viscose set is light enough for summer, but the long sleeves and hem make it the perfect fall PJ: one of the almost-7,000 reviewers say it's "smooth, light, and breathable," making it a "must buy."
Prefer to keep it cool? Then look no further than this Ekouaer Cami Pajama Set ($25.99), which is so cute and minimal, it can double as a regular top for Zoom meetings. The racerback tank has an adorable strappy back, and the gray-leopard shorts have an adjustable drawstring. The spandex-rayon blend is soft and durable, and the 4.5-star reviews say they are "absolutely perfect in every way."
If you're looking towards wintertime, but don't want to go for red-and-green plaid flannel, then consider this TIKTIK Scoop Neck PJ Set ($39.99). This set's viscose thermal fabric is made for keeping the heat in, is still "lightweight," and features an inclusive size-range to boot. We love the on-trend wide-leg, and more than 4,000 reviewers agree: it's "the perfect set to lounge in."
Pretty in cozy pink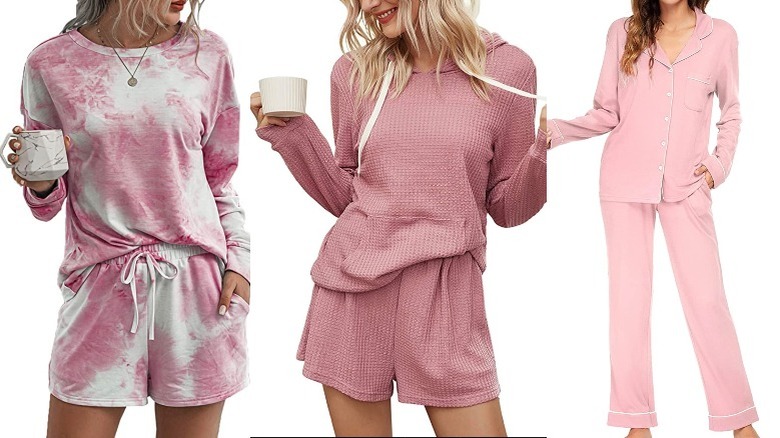 So far, we've traversed the land of silky sets, cozy shorties, and the sleekest PJs on the market — but dainty pink sleepwear deserves a category of its own. Especially when they're this cute!
Tie-dye made quite the impression last summer, with countless influencers and celebs donning tie-dye sweatsuits and Glamour deeming it "the biggest trend of the year." We're still not over the graphic, rainbow print, and this PRETTYGARDEN Women's Tie Dye Printed Pajamas Set ($32.99) proves it — we're obsessed. The Strategist named it the best long-sleeved t-shirt with shorts pajama set on Amazon, coming in almost 40 different printed colors like leopard, florals, and stripes. One of the 6,000 reviewers says it's one of her "favorite clothing purchases" and is "super vibrant."
We can't get over this so-cute KIRUNDO Two Piece Pajama Set ($28.99), which features a waffle-knit, light fabric 4.5-star reviewers say is "super soft," "very comfortable," and "cute, cute, cute." This is the perfect set for coffee-drinking and couch-lounging, and the hoodie and front-pocket are both useful and adorable. While we love this mauve-pink shade, the cornflower-blue and olive colors have our hearts, too.
One of the chicest and most delicate PJs we've seen, this HEARTNICE Button Up Pajama Set ($27.99) is rosy and perfect. It is high-quality in a stretchy cotton-acrylic fabric, with a drawstring, button style, and pretty white piping. This brushed cotton set is perfect for gifting, and 1,000 reviewers say it looks "much more expensive" than it actually is.
Extra-warm fabrics and adorable prints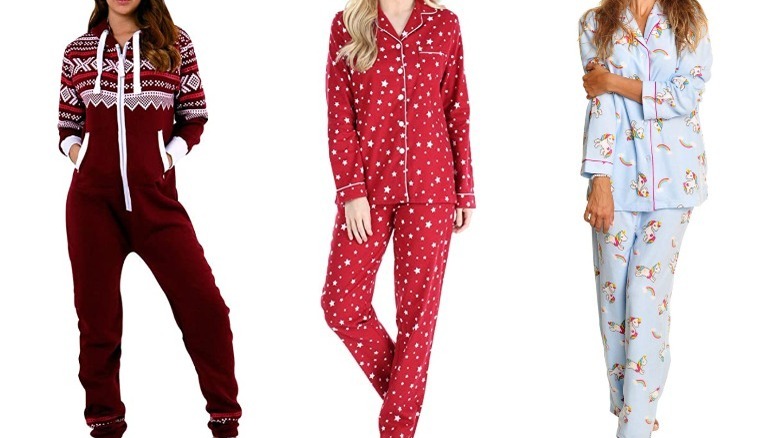 Sure, we're all still basking in the last rays of sun, but in the words of "Game of Thrones," winter is coming — at least eventually. So what better time to start shopping for December PJs than the present? These sleepwear faves are super-warm in flannel and fleece, and we need them all.
Try this SKYLINEWEARS Onesie ($37.99) for optimal coziness, made ski-season-chic in this Fair Isle print and cabernet hue. Even if you're not sold on the whole onesie thing, more than one thousand 5-star reviewers can't get enough: this PJ is the "best fitting onesie," "super comfortable," "great quality," and "great for winter months after a shower." Who needs robes, anyway? Plus, it's easy to get on and off with a front zipper and gentle cotton-poly stretch.
Can you tell we love graphic star prints? These PajamaMania Cotton Flannel Long Sleeve Pajamas in Cranberry Star ($29.99) are made from cozy, warm 100% cotton flannel, and more than 3,000 reviewers say they're "soft and comfortable." One devotee says it's a "flannel that will stand the test of time, neatly trimmed with coordinated satin, quality stitching, and soft warm comfort for chilly nights." Sold!
Last but not least, the "unicorn" of the bunch: this so-cute Angelina Fleece Pajama Set ($29.99). Sure, we're pretty mesmerized by the adorable baby blue unicorn print with rainbows and pink piping — but the quality is just as top-notch. 8,000-plus reviewers agree it's "cozy, soft" and has a "great fit." Even better? Pockets!
Source: Read Full Article