Ree Drummond introduced fans to some of her favorite Christmas recipes. She showed home cooks how to make what she calls "small bites for the holidays." One interesting recipe she demonstrated was for crispy cauliflower cakes. If you're a fan of vegetables and you like cute finger foods, you'll fall in love with this one. Here are The Pioneer Woman's directions for making this treat.
Ree Drummond's crispy cauliflower cakes
Drummond describes this meal as "little cauliflower fritters with a delicious, zesty, yogurt sauce on top." She says they're great for cocktail parties. These little bites are the perfect appetizer for a holiday party.
Drummond starts by adding a beaten egg to a bowl of riced cauliflower. She says you can buy riced cauliflower frozen or in the fresh produce section. "This is really widely available now, which is great because it's such an awesome ingredient," says Drummond on The Pioneer Woman show.
If you can't find riced cauliflower, Drummond says all you have to do is purchase a head of cauliflower from the supermarket, put it in a food processor, and "pulse it until it's completely broken up." She describes cauliflower as a "magical" ingredient.
Next, Drummond adds flour and cornstarch to the riced cauliflower. She warns against putting too much flour or cornstarch in the bowl. Then, she adds green onions, minced garlic, and salt, along with a tablespoon of curry powder and a couple of teaspoons of cumin. Drummond says she loves the color, flavor, and "everything" about curry. For the next step, Drummond scoops out small pieces of the mixture and fries it in a pan of oil. She cooks the cauliflower mixture for 2 minutes on each side.
Serving the cauliflower cakes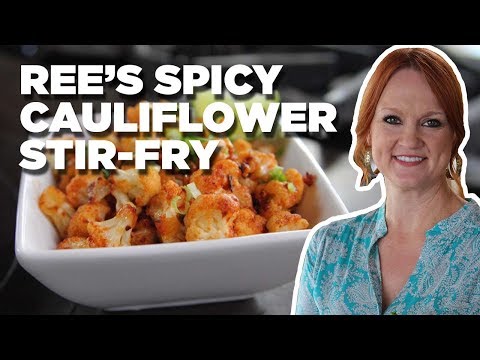 Drummond says the cauliflower cakes can be served at room temperature, so they can be prepared ahead of time. "You can make them well ahead of your party, and you don't have to sit there and [fry the cauliflower cakes] as your guests are arriving," says Drummond.
The Accidental Country Girl finishes her cauliflower by making a yogurt sauce that can be used as a dip or a topping. She starts by adding the zest and juice of a lemon, as well as hot sauce, salt, pepper, and chopped cilantro to a bowl of Greek yogurt. After stirring the mixture, Drummond places a dollop onto each cauliflower cake.
You can find the complete ingredients list and directions here. If you're in the mood for stir fry, try Drummond's spicy cauliflower stir fry. Directions are in the video above.
What Ree Drummond loves about crispy cauliflower cakes
Drummond says this recipe brings back sweet memories from childhood. She says the cauliflower cakes are something her mother would make.
"This is the kind of food that I just remember my mom serving at her cocktail parties in the 70s and 80s," says Drummond on The Pioneer Woman show. "She used to have these really cool holiday parties at our house. And the kids weren't invited. The kids had to stay upstairs, and I would sneak down to the kitchen and try to grab some of the dessert while my mom was socializing. Those were exciting times."
RELATED: 'The Pioneer Woman': Air Fryer Sweet Potato Fries
Follow Sheiresa Ngo on Twitter.
Source: Read Full Article