Former President Donald Trump only left the Oval Office nine months ago, following his defeat at the hands of former Vice President Joe Biden. However, he's begun to make public appearances again, such as holding rallies and meeting with the NYPD and FDNY on 9/11. This leaves many wondering if Trump will run for president in 2024. According to Trump advisor Jason Miller, his chances of running again are "between 99 and 100 percent," per Forbes. 
While Trump might be anxious to make a return to the White House, his wife Melania Trump is not. "Being first lady again is not what she wants," a source told CNN. "For her, it was a chapter — and it's over, and that's that." Another insider with information about the former first lady's feelings about the prospect went as far as to say, "You're not going to see her at rallies or campaign events, even if he 'officially' says he's running again." Melania has not made any public appearances since leaving the White House and is not participating in typical former first lady activities. In fact, she seems to have a separate life entirely. "She's not a presence at Mar-a-Lago at all. She's not mingling with people and rarely interacts with her husband's staff," a source told CNN.
Now, another person is weighing in on the situation. Read on to find out what Donald's former White House press secretary Sean Spicer has to say about the former first lady.
Sean Spicer calls rumors about Donald and Melania Trump "disparaging"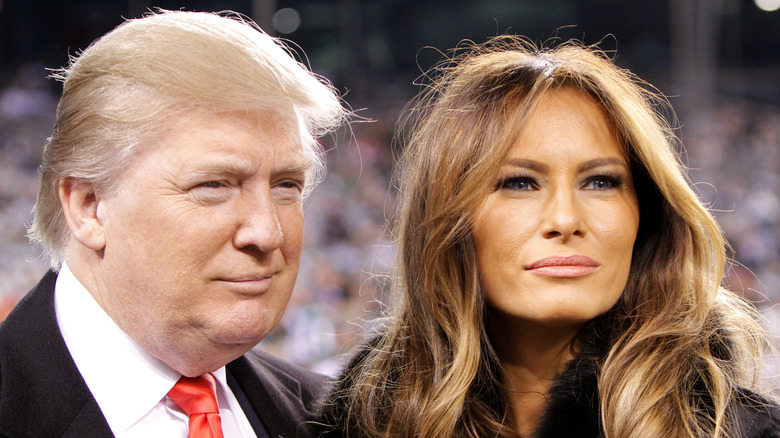 During Donald Trump's four years in the Oval Office, a former aide claimed that Melania Trump was "counting every minute" until his presidency was over, according to The Sun. Former White House press secretary Sean Spicer denied the rumors that Melania couldn't wait to get out, calling the rumors "disparaging." "I think the reports are absolutely abhorrent and disgusting. I have seen them together for six years," he told The Sun. "I don't have any insight into their personal relationship but seeing people speculate on the state of their marriage is absolutely deplorable and despicable."
A source did tell CNN in early September that the former first lady has no plans to attend his rallies or participate in campaign events if Donald runs for office again. "Instead it's going to be Lara (Trump, the wife of Trump's son, Eric) or (Kimberly) Guilfoyle (the girlfriend of Trump's eldest son, Don)," the source explained. "They have that same urge Trump has to (run) again; Melania absolutely does not." Melania is known as one of the most private first ladies, having only been seen once publicly since leaving office and participating in less than five on-camera interviews during Donald's four years in office, so it seems likely that we won't be hearing from her about her thoughts on this matter.
Source: Read Full Article