Rick and Morty season 5 episode 7 spoilers follow.
'Gotron Jerrysis Rickvangelion' starts off with a surprisingly catchy song about Boob World — "It's a world for you / But it's actually two / Boob Woooorld" — but by the end of Rick and Morty's latest episode, it turns out that we were the boobs all along.
For reasons too ridiculous to go into here, what starts out as an innocent trip to Boob World quickly descends into a chaotic anime parody slash Goodfellas homage, because Rick and Morty. But even that's all pretty tame compared to a surprise bombshell Summer drops towards the end of the episode.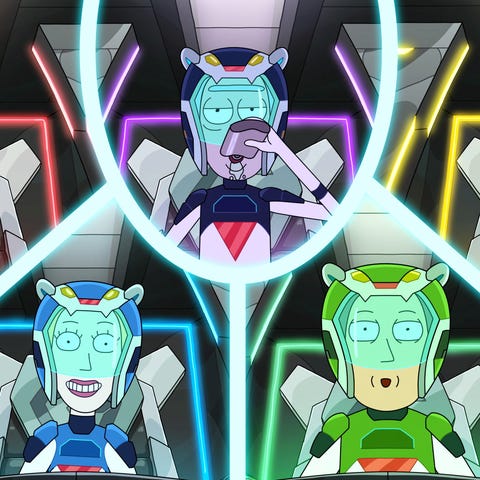 More than once, 'Gotron Jerrysis Rickvangelion' mentions the giant incest baby that was shot into space a few episodes earlier, and more than once, we feared that this meant Rick and Morty's dumbest episode would end up becoming integral to this one too. We were right to worry because it turns out that the baby that came from Summer's egg and Morty's sperm is still kicking and screaming.
After the US government shot the embryo into space, they took him to a secret facility on Mars, and with Summer's help, they hoped to turn this monstrous creation into "the ultimate weapon". But instead, Summer taught the baby how to escape, and that's why Giant Incest Space Baby™ shows up at the end to return the favor and defeat all of the super-mecha, Ratatouille style.
Even for a show like Rick and Morty, that might still be one of the weirdest plot summaries ever written, but what's more surprising is that Giant Incest Space Baby was even brought back at all. Aside from exceptions like President Curtis and Mr Poopybutthole, recurring characters are few and far between on this show. Hell, even regulars like Jessica and the newly introduced Space Beth have barely appeared at all in season five, despite being set up to become major players this time around.
Source: Read Full Article