Hip-hop's hottest couple has been through a whole host of ups and downs. If you look at photos of Cardi B and Offset's red carpet body language, you can see that yes, so much has transpired between these two over the course of their relationship. But you'll can also spot the signs that their intimacy and romantic bond is strong — which is why they keep coming back together.
To say that Cardi B and Offset have had an eventful relationship would be an understatement. The two met in 2016 and collaborated that December on the song "Lick." Dating rumors officially started when the two were seen together at the 2017 Super Bowl. Cardi played coy for a few months, but eventually admitted in April that she was seeing "the boy," as she called him in her Tim Westwood interview. Fall 2017 sizzled with engagement rumors, and then Cardi B, Migos, and Nicki Minaj dropped their collab "MotorSport" in October. That same month, Offset publicly proposed to Cardi B onstage at Power 99's Powerhouse concert in Philadelphia (although later she confirmed they'd already gotten married privately in September). But in December 2017, a reported hack of Offset's iCloud leaked a video of another woman dancing naked in what was reportedly Offset's hotel room (the man's outfit matched one of Offset's from earlier that month).
The couple stayed strong anyway and welcomed their daughter, Kulture, into the world on July 10, 2018. By December 2018, however, Cardi announced her split from Offset via Instagram. Later that month, Offset would go on to infamously crash Cardi B's headlining set for Rolling Loud Festival with a cake and a banner reading, "Take Me Back Cardi." The two appear to be back together — Exhibit A, Offset showing Cardi support at 2019 Grammys, and Exhibit B, their PDA-filled video for "Clout," which dropped in April. Looking at their body language from 2017 to now, you can definitely pick up on how, after all this time, Cardi and Offset are still smitten with each other.
Cardi and Offset are in love, but there's uncertainty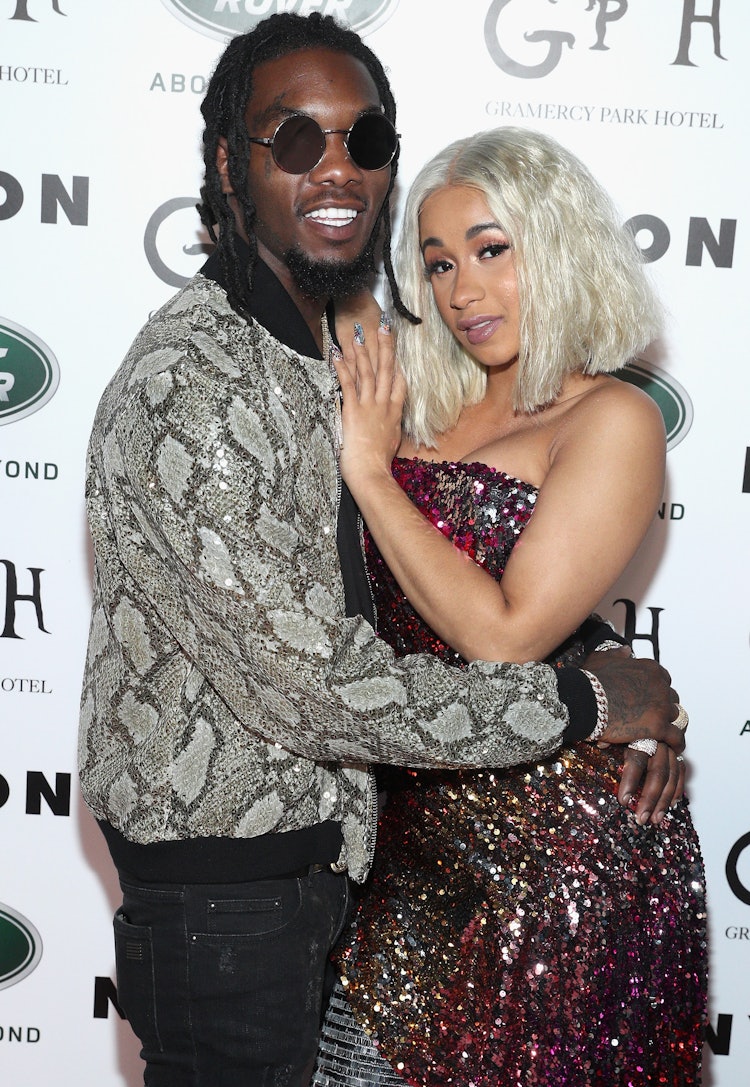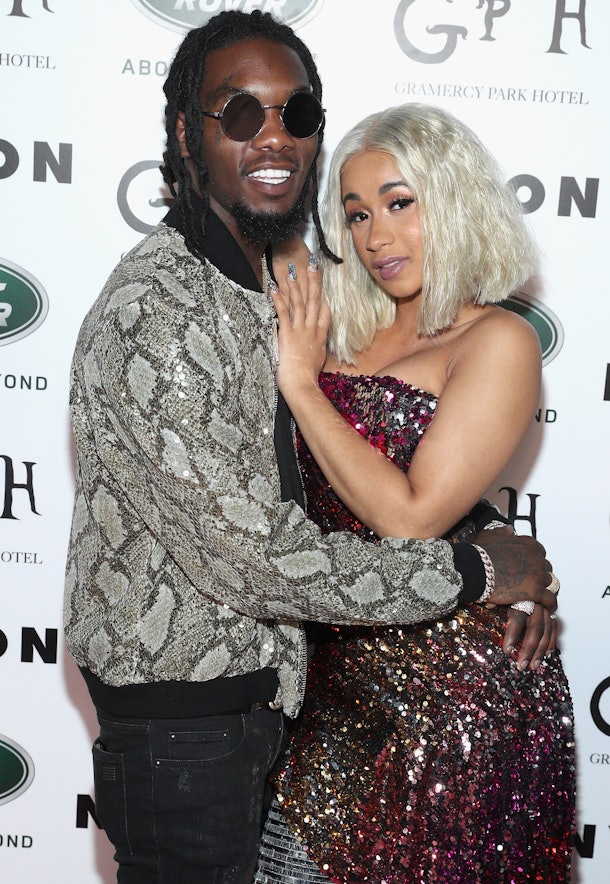 Looking through red-carpet photos of Cardi and Offset, you can pick up on a signature positioning of their bodies. Typically, you'll see Offset on the left and Cardi on the right, with their bodies turned toward each other and Offset's hands on Cardi's waist. Facial expressions between the two may change and so might the positioning of their hands. But, as body language expert Patti Wood notes, "They are always with the intimate body bubble of space with one another."
This shot of Offset and Cardi B attending NYLON's Fashion Rebel Party in September 2017 shows that Cardi's still feeling it out, but there's ultimately a romantic connection. Offset's smile in this photo is open, and Wood points out, "He is making more of the effort to wrap his arms, with the hands folded over and locked around her." It's a definite gesture, but is gentle and not too aggressive.
Wood also says that, compared to later pictures of the couple, you can tell the way Cardi feels about Offset has definitely changed from this moment. "She has her hand up and finger spread out in a 'stop!' motion, to keep him a bit at bay," Wood says. Cardi's pelvis and chest are pulled back, which isn't the case in the other photos. "Instead of looking at him she is looking with a bit of wistful sadness at the camera."
This was right after Cardi and Offset had gone ring-shopping, and Cardi hinted during 2017 MTV Video Music Award pre-show that she wanted Offset to propose. The photo was taken also about a month or so before Offset would go on to allegedly cheat. While fall 2017 may have been a tumultuous time for them, in this moment, you can see that Offset is all-in for Cardi — even if she's a bit uncertain.
Cardi and Offset are head over heels for each other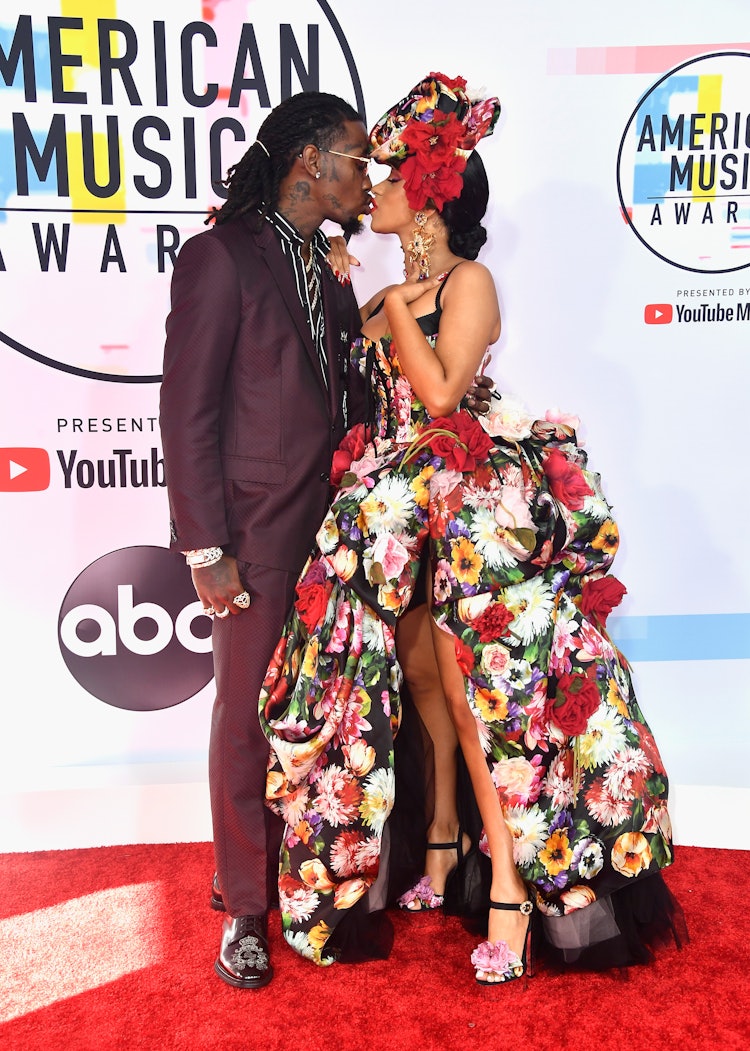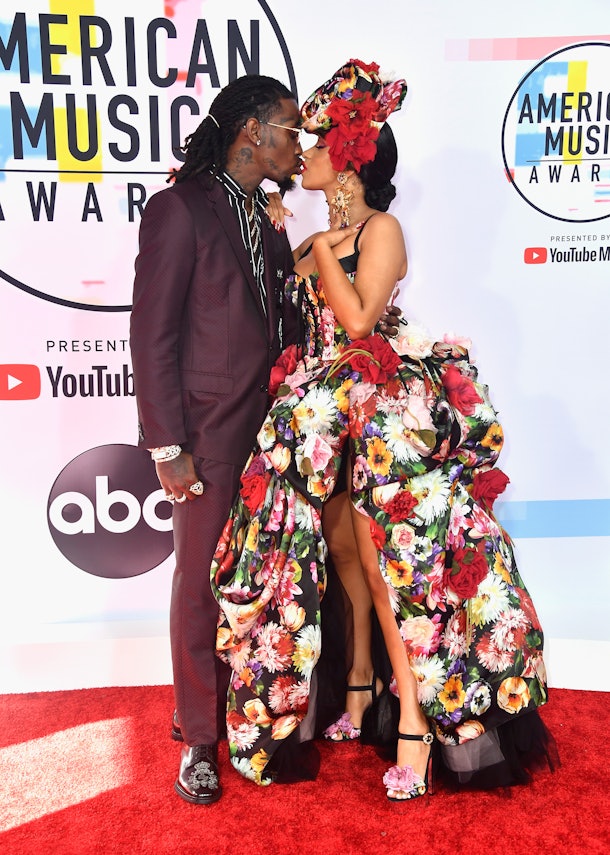 But time heals many wounds. This red-carpet photo was taken in October 2018, after the birth of Kulture and long after the alleged cheating fallout. Offset and Cardi's body language at the American Music Awardsjust oozes with that love and intimacy.
Analyzing this photo — again, with Offset on the left, Cardi on the right, and Offset's hands on Cardi's waist — body language expert Lisa Mitchell told Elite Daily, "She's claiming her man by keeping him close, and putting her arm around his shoulder or her hand on Offset's chest continuously. And he returns the gesture by keeping his arm around the small of her back during their time on the red carpet." While not a full embrace, body language expert Traci Brown said the two "still have a lot of intimacy and are letting us in on this private moment."
Mitchell continued, "Their bodies are close and turned into each other at the heart level in several pictures, showing that they are connected and literally leading with their hearts." The AMA love fest was in full force on that red carpet, with Cardi and Offset gazing deeply into each other's eyes, and Offset kissing Cardi's hand. Looking at this picture and others from the night, it's clear that these two were in a good place to nurture that ever-present chemistry.
Cardi and Offset are committed to making things work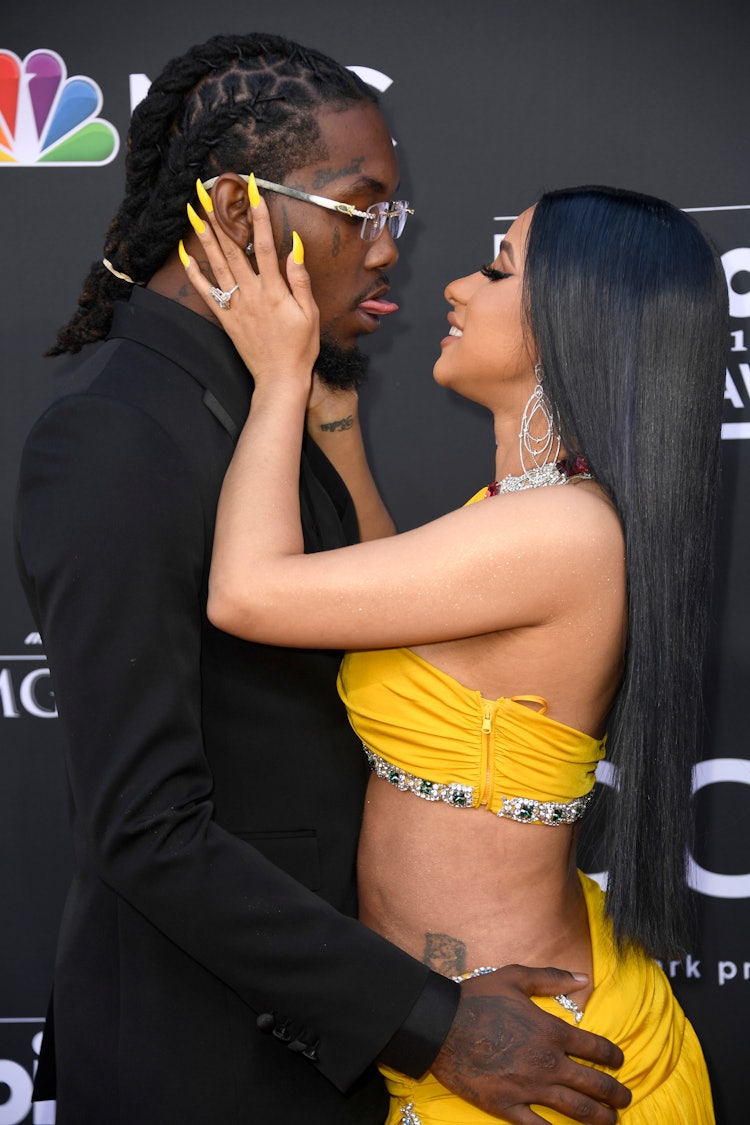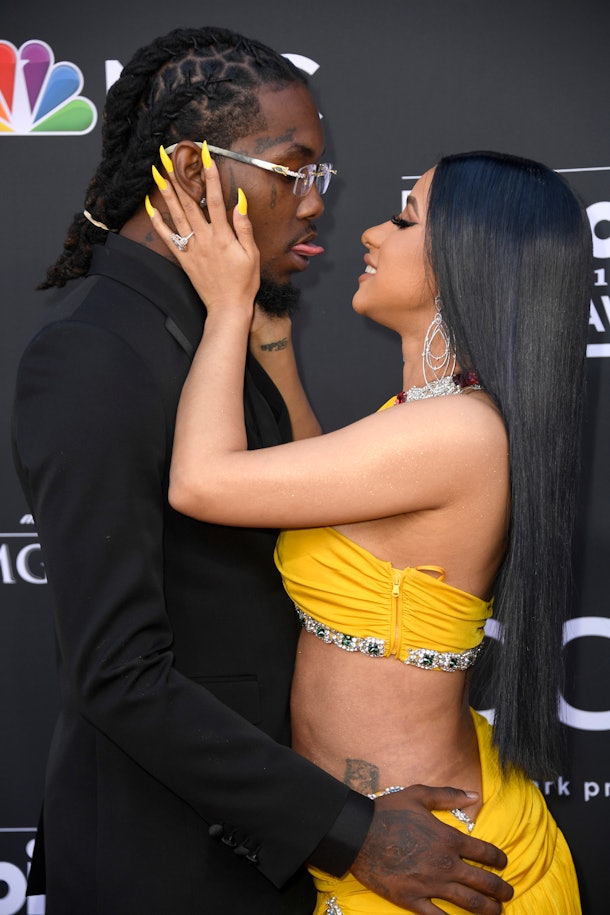 And then, there are the low-key infamous/low-key hot pictures from 2019 Billboard Music Awards. "It's interesting, as he started with that sexual tongue protrusion, and a very light hold on her pelvis showing he was sexually into her," Wood says. She notes the change in Cardi, holding 2017 Cardi's "wistful" and guarded look up against 2019 Cardi's "tender face hold" and "happy delighted expression."
Again, compared Offset and Cardi in September 2017: They're in a variation of their signature position, but their energy is different. While some could read Offset's neutral expression as lackluster, the two do look genuinely warm and happy in photos from the night.
To say the least, Cardi B and Offset have truly gone through it as a celebrity couple. But there's a reason they're still hanging on strong (delivering looks, cute IG moments, and bangers) as hip-hop's current first couple.
Source: Read Full Article