Matt James is back on Instagram! In case you missed it, the Bachelor star recently wiped his entire grid—including photos of his family and friends, a ton of workout pics, and some Bachelor content.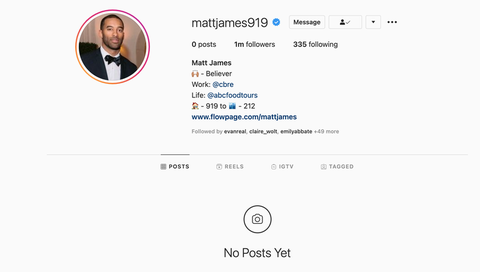 But the break from social media was brief, because Matt is officially back at it: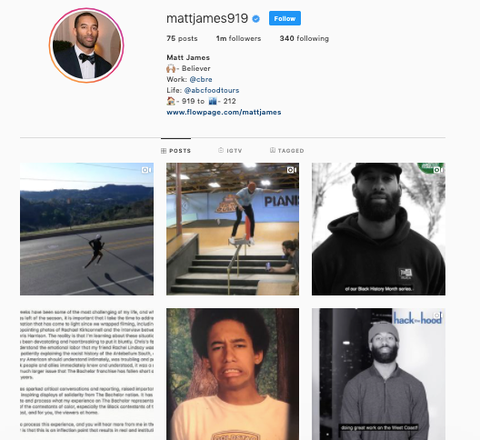 However, Reddit points out that Matt's posts about The Bachelor seem to be permanently deleted or archived—which is completely understandable. As a reminder: In addition to finding out that his winner Rachael Kirkconnell attended a racist Old South plantation-themed party in college, Matt's endured attacks from people who think he should have stayed with her (erm, literally not ANYONE'S business!). During After the Final Rose with host Emmanuel Acho, he explained his decision to break up with Rachael, saying in part "If you don't understand that something like that is problematic in 2018, there's a lot of me that you won't understand. It's as simple as that."
Matt also told Rachael that when he started questioning their relationship, "It was in the context of you not fully understanding my Blackness and what it means to be a Black man in America, and what it would mean for our kids when I saw those things that were floating around the internet.".
Matt has stayed relatively quiet on social since After the Finale Rose, but fortunately he seems to be doing well. His close friend and former Bachelorette star Tyler Cameron told Us Weekly, "He's going through it [but] he's doing good," adding, "You know, we just have to take care of ourselves."
Source: Read Full Article