Despite the model's public rant against her, the political commentator doubles down on her opinion regarding the 'Rust' actor, saying that he 'has always been a predator in Hollywood.'
AceShowbiz –Ireland Baldwin has come to Alec Baldwin's defense. Upon learning that Candace Owens trolled her father over his accidental shooting on the set of "Rust", the model fired back at the conservative pundit, calling her "disgusting."
Ireland lashed out at Candace via Instagram Story on Monday, October 25. Sharing a picture of the political commentator, she raged, "You are the most disgusting, hateful cancerous human being I've ever come across. Regardless of your foul opinions most of the time, the fact that you would disrespect the life of a woman who was accidentally and tragically killed… shame on you."
The daughter of Kim Basinger then shared a screenshot of Candace's tweet. On top of it, she said, "Yup… I'm going to go ahead and take that Instagram break. I am ashamed to breathe the same air as this woman."
"Be a republican. Be unvaccinated. I don't give a f**k. There are plenty of republican values that I support and plenty of liberal ones that I support as well… But one f**king thing I find myself doing is being RESPECTFUL," Ireland noted in a separate snap. "But we aren't debating masks and vaccines and abortion and trans rights here…"
"A woman's life was lost. Your tweets, lack of information, and ignorance are hurting people. You and that scumbag @jackmposobiec don't have a clue what you're even talking about and you usually never do," she further stressed. "I respect people's opinions… but if you support these absolute clowns… please don't follow me any more. I beg."
Ireland went on to urge her fans to "unfollow" her if they try to "defame" her dad Alec and "tweet such horrific statements about this tragic situation." She then concluded her message by writing, "It breaks my heart that people are so hatefully ignorant."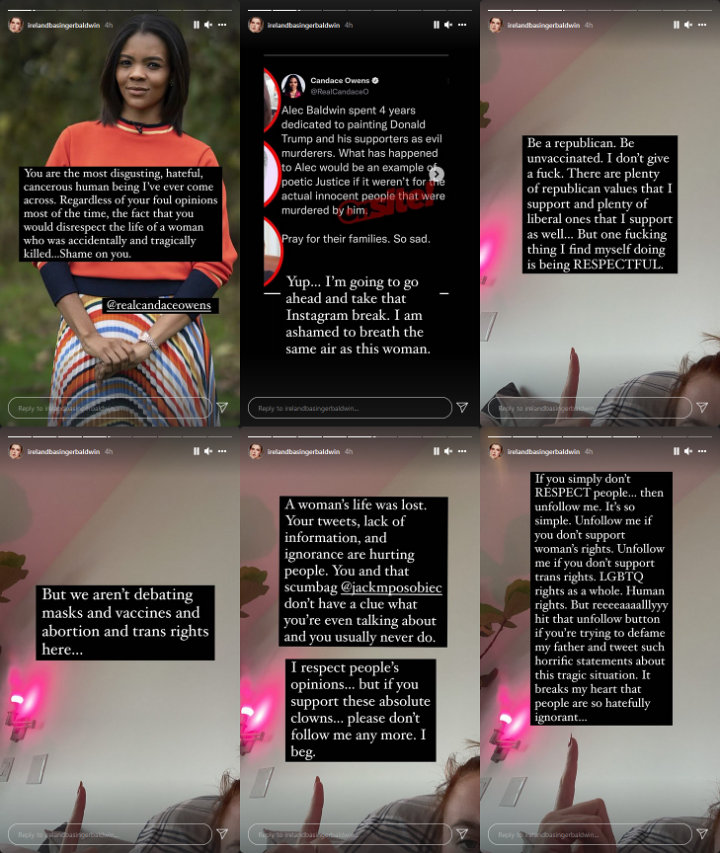 Ireland Baldwin called out Candace Owens for trolling Alec Baldwin's accidental shooting.
As for Candace, she divulged that Ireland reached out to her personally. Still, Candace insisted that she doesn't "feel bad for [Ireland's] psychopathic father. Feel bad for the victim, not Alec." She went on to drag him, "He has always been a predator in Hollywood who was given a pass."
Candace then let out a screenshot of her DM with Ireland, who told the former that her dad's incident was not "about poetic justice or politics." The two women, however, apparently have settled their issues after "having an actual conversation" with each other.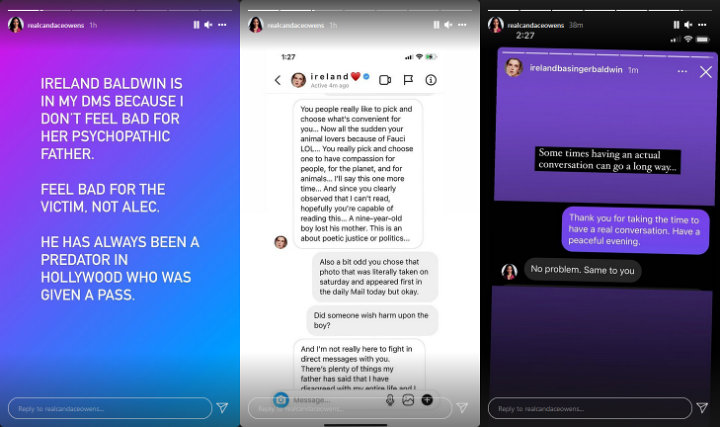 Candace Owens and Ireland Baldwin seemingly settled their issues after the latter's public rant.
In Candace's original tweets, which she sent three days prior, she argued, "Alec Baldwin spent 4 years dedicated to painting Donald Trump and his supporters as evil murderers." She added, "What has happened to Alec would be an example of poetic Justice if it weren't for the actual innocent people that were murdered by him. Pray for their families. So sad."
"Will correct that last tweet to say Alec Baldwin *killed* someone- not murdered someone, as murder carries a different legal definition," Candace continued. "Literally not one single thing that Alec Baldwin has said about Donald Trump and his supporters is going to age well."
Source: Read Full Article