Hoda Kotb is incredibly close to her Today co-stars and is always one of the first to be their cheerleader both on the show and outside of it.
MORE: Hoda Kotb's stand-in host revealed as star takes time off Today
The mother-of-two – who has been taking some much-deserved time off over a lot of the summer to be with her family – always likes to remark on her famous friends' success on social media.
The star earlier in the year was particularly proud of her co-star Jenna Bush Hager – and didn't hold back on her pride either!
The NBC host shared a snapshot back in April when Jenna embarked on her book tour with her sister Barbara Bush – as they went around the country promoting their children's book, The Superpower Sisterhood.
VIDEO: Jenna Bush Hager and Hoda Kotb host New Year's Eve Special
Jenna and Barbara left in April for a nine-date book tour to promote their book, and Hoda couldn't have been more proud.
MORE: Hoda Kotb delights fans with heartfelt tribute to rarely seen family member in new photo
MORE: Today's Hoda Kotb's difficult career goodbye revealed
"So proud of you @jennabhager and barbara! This book is top of our reading list!!!!" she wrote alongside a picture posted on her Instagram account, inspiring many fans to send heart emojis and messages of support as well.
"Incredible women doing incredible things," one wrote, with another saying: "Y'all are amazing!!!" A third even added: "Love how Hoda and Jenna support each other."
https://www.instagram.com/p/CctrKnUrwjT/
A post shared by Hoda Kotb (@hodakotb)
Hoda showed her support for Jenna as she continued on her book tour
Hoda and Jenna have been hosting the Fourth Hour together since 2019, after Jenna took over from Kathie Lee Gifford following her retirement.
MORE: Hoda Kotb leaves Today co-star lost for words with powerful speech about work
MORE: Hoda Kotb opens up about embarrassing moment that left her 'crushed'
The pair have children of similar ages and recently enjoyed spending a day together at Hoda's vacation home by the beach. They were joined by the Fourth Hour Executive Producer, Talia Parkinson-Jones, along with her kids.
Some lovely photos from the outing were shared on Hoda and Jenna's Instagram pages and it looked like a good time was had by all!
Hoda shared a picture of the group sitting outside her home alongside the caption: "Little fun in the sun," to which Jenna replied to the post: "That was a blast. Love my ladies and their babies. More of this please."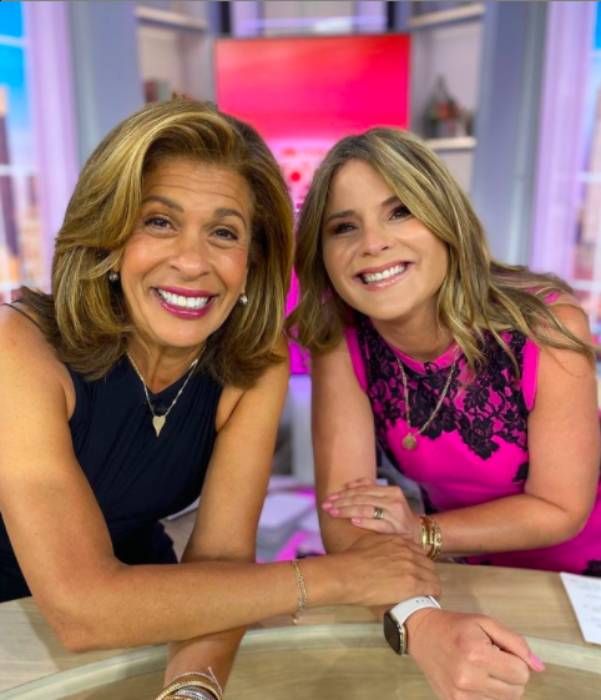 Hoda and Jenna are super close
Jenna recently spoke to HELLO! about working with the mother-of-two, and told us that Hoda is the one to make her laugh the most.
MORE: Hoda Kotb surprises Jenna Bush Hager with worrying confession about her eyesight
MORE: Hoda Kotb reveals exciting new venture away from Today Show
"I feel like Hoda and I laugh hysterically, we can get into that laughter where we're not supposed to laugh," Jenna admitted.
"That church laughter where we're like 'We're going to get into trouble'," she shared.
Jenna also opened up about working with fellow parents at Today, also praising co-star Savannah Guthrie.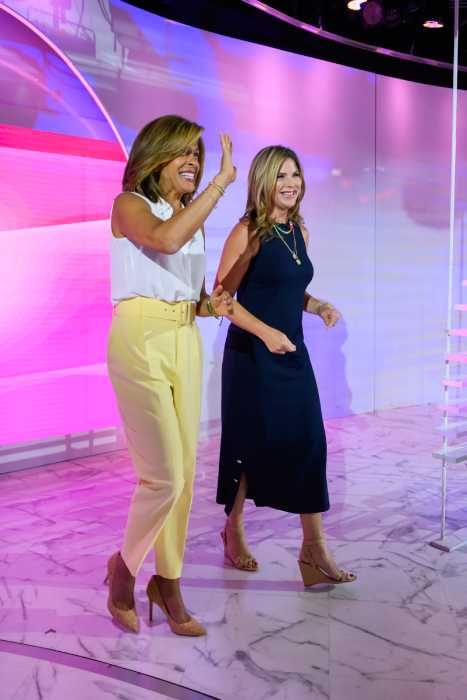 The Today duo have been working together since 2019
She said: "I am so lucky to work with this group of extraordinary moms. We all have kids who are similar ages so it's been really fun and kind of wild. It's great and I don't take it lightly. Even this weekend just gone, I had one kid, my husband had two, and Savannah picked up my kids and took them to church."
MORE: Savannah Guthrie shows support for co-star Hoda Kotb in the sweetest way
MORE: Al Roker in disbelief over son Nick – details
She added of Hoda: "I can text Hoda and ask for advice. I'm so lucky to work with people who I not only adore, but i can lean on them. That's the true meaning of sisterhood."
Read more HELLO! US stories here
Like this story? Sign up to our newsletter to get other stories like this delivered straight to your inbox.
Source: Read Full Article