Hayden Panettiere's boyfriend is in trouble with the law… AGAIN!
According to TMZ, on Wednesday night, the Nashville star and her man, Brian Hickerson, allegedly went drinking in Hollywood before returning to their residence.
While at home, the two allegedly got into a fight that turned physical. After cops were called by an unknown party, authorities arrived at 2 a.m. and noticed redness and marks on the actress' body.
After analyzing the situation, they came to the conclusion that Hickerson allegedly started the fight, arrested him, and booked him for felony domestic violence.
He was released on Thursday after posting a $50k bond.
As we reported last year, in October 2018, Brian and his father, David, were in the middle of some sort of alleged domestic incident when cops showed up to their Greenville, South Carolina house on a call for assault and battery.
Allegedly, when the Heroes alum answered the door, she was "in an apparent drunk and frantic state" during the incident.
Officers quickly chased down and cuffed Brian, but he was reportedly uncooperative, apparently out of fear that the incident could have a negative impact on his girlfriend.
Though David reportedly had visible injuries on his face — including severe bruising and bleeding — he claimed to cops that he fell.
Eventually, Hayden allegedly confessed to the police that she and David had been drinking prior.
In February 2019, an Us Weekly insider said Panettiere "hasn't had much time" with her only daughter Kaya, who she shares with ex-fiance Wladimir Klitschko.
Per the source:
" knows the child being with her is not best for . It's a sad situation."
Reportedly, the four-year-old is currently living with her father, and is being raised with help from his family in Ukraine.
However, that same month, Panettiere shot down these rumors by posting a rare pic on Twitter of what appears to be her little one.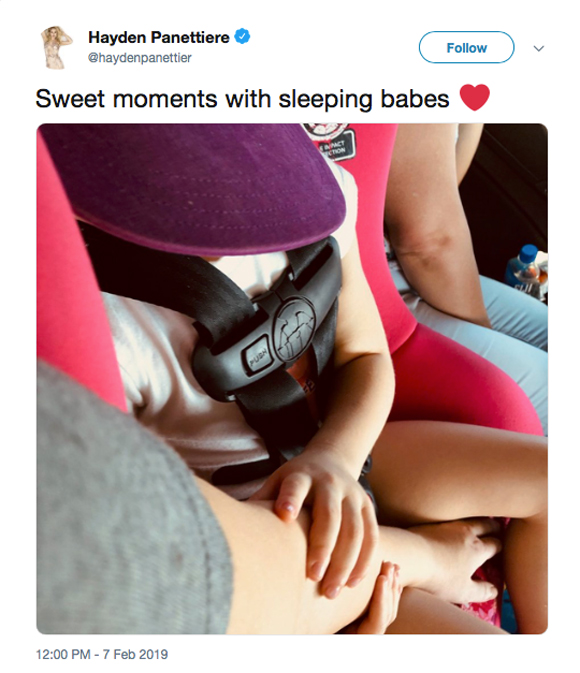 Hickerson even told Access at the time:
"Hayden is actually on a family vacation right now with her daughter and the Champ, so don't believe everything you read. She's a great mom."
Additionally, a People insider commented:
"To say she never sees her daughter isn't true. Hayden has gone through changes since she had Kaya, and while some were not perfect, others have helped her grow. She is trying to feel good about herself, her life, and how she wants to go forward."
We hope everyone finds what they need to heal in this situation.
Source: Read Full Article