The 'Cheating On You' crooner, who is already fully vaccinated against the coronavirus, explains that he is 'not feeling amazing' when revealing that he has contracted the virus on his social media account.
AceShowbiz –Charlie Puth is the latest celebrity to contract COVID-19. The "One Call Away" hitmaker admitted to feeling like "complete a**" when revealing on his social media page that he tested positive for the coronavirus.
On Wednesday night, December 15, the 30-year-old took to his Twitter account to tell his fans and followers that he contracted the deadly virus. "Hey everyone. I tested positive for Covid this morning," he began.
Charlie went on to detail his current situation as saying, "I'm not feeling amazing but I think the worst is behind me." The Grammy-winning artist added, "I write you this update, feeling like complete a**, in hopes that you will be safe and careful this holiday season." He then concluded his post by promising that he will provide further details, "Love you and I'll speak to you very soon."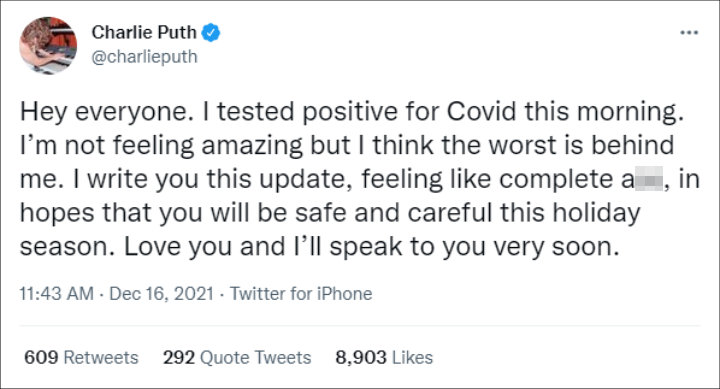 Charlie Puth announced that he tested positive for COVID-19.
His mother Debra Puth responded to her son's Twitter post, "I'm so glad you are vaccinated," adding a slew of red heart emojis. His fans were also quick to send him wishes for his speedy recovery. One wrote, "Despite the bad news your words will create awareness on other people so that even if they are vaccinated they will take all possible precautions. Thank you Charlie and I hope you recover soon. Love you."
"I'm sorry to hear it Char. It's been quite a while since the Covid began to spread and I know you've been working hard following quarantine rules well," a separate person replied. "I can't believe it happened to the man I love the most, I'm sad but this situation can happen to anyone somehow & you're strong, so you can overcome this trivial virus soon. Everything will be fine. I support you anytime, anywhere."
Luckily, Charlie was fully vaccinated. In May, the "Cheating On You" crooner took to his TikTok account to share that he got his second shot. At the time, he posted a video of him with a voice that could be heard saying, "If you got Pfizer, you are timeless classy, elegant, Nicole Kidman in 'The Undoing' vibes." In the caption, he wrote, "Got second shot… a little sleepy but other than that I'm feeling pretty good."
Source: Read Full Article