Busy Philipps revisits her past to pave the way for a better future.
On Tuesday morning, Georgia Governor Brian Kemp signed the controversial "heartbeat" bill into law.
HB 481, technically called the "Living Infants Fairness and Equality (LIFE) Act," will prohibit abortions in the state after a heartbeat is detected, as early as six weeks into a pregnancy. However, the law allows exceptions in the case of rape, incest, or if the life of the mother is in danger.
That night, on her late night show Busy Tonight, the actress reflected on the bill by opening up about her abortion, which she got when she was only 15 years old.
(The thespian previously revealed this news last year in her memoir, This Will Only Hurt A Little.)
An emotional Philipps said on-air:
"No bill that criminalizes abortion will stop anyone from making this incredibly personal choice, but these laws will put more women at risk… Every woman deserves compassion and care, not judgment and interference when it comes to their own bodies."
The 39-year-old then said women and their doctors are the only ones who can make this pivotal decision.
"I know that people feel very strongly about abortion, but let me just say this. Women and their doctors are in the best position to make informed decisions about what is best for them… Nobody else. Nobody."
She concluded:
"I had an abortion when I was 15 years old and I'm telling you this because I'm genuinely really scared for women and girls all over the country."
Following the episode, the Freaks and Geeks alum took to Twitter to explain why she re-told her story. She wrote:
"I spoke about my abortion on my show tonight because I can not sit idly by while women's rights are stripped away."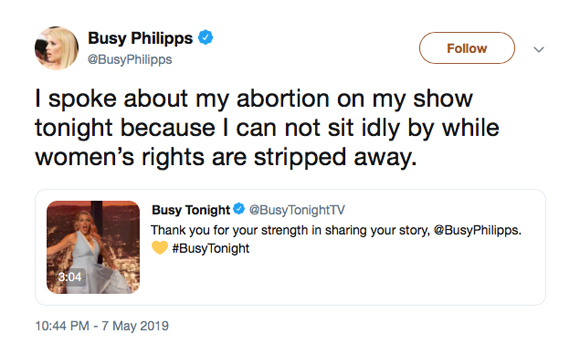 If the bill is not blocked, it will take effect on January 1, 2020.
WATCH the clip (below):
Per her book, Busy had a serious boyfriend at the time of her teenage pregnancy.
Though her parents — who found out from her diary entry — were supportive of her abortion, her then-boyfriend's mom was not, and told her, "You're going to murder a baby."
In an interesting twist, Philipps went on a school trip to the Vatican in Italy following her procedure.
On what would have been her due date, she met Pope John Paul II, who made the sign of the cross and spoke to her in Italian. She interpreted this event as a sign of forgiveness.
She wrote:
"I never told this story publicly… I haven't even told people I'm very close with… It doesn't work for me without getting the absolution I needed. And from the only person in the world who could give it to me: the Pope in Rome."
Thank you for sharing, Busy.
Source: Read Full Article