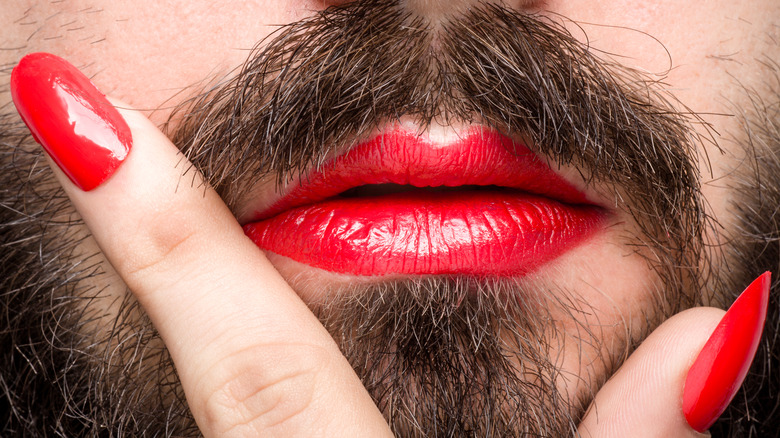 As the world emerges from the clutches of the pandemic and returns to old routines, it's probably safe to assume that you've noticed some men out and about rocking nail polish on their fingers. While polish has been marketed as a distinctly feminine beauty product for years (via Mic), it's lately becoming popular with a wider audience, including men. In fact, it's gotten to the point that Esquire declared 2021 "the year of the menicure." But it's worth noting that this is hardly the first time men have partaken in the trend.
According to Nails Magazine, nail polish has been around for thousands of years, and it originated with men wearing it. Over time, the trend became more popular with women and less popular with men. It's difficult to place when the trend shifted; however, Mic noted that by the 1800s in France, women were usually the ones painting their nails.
Eventually products were marketed almost entirely toward women. That's changing rapidly now, but polish has been trending toward being gender neutral for a while. Lately, nail polish for men is becoming popular across all sorts. However, Mic pointed out that the practice first became acceptable again with the rise of counterculture rockers such as David Bowie and Kurt Cobain.
Interestingly enough, famous men today are also at the forefront of the nail polish for men trend.
Celebrities are helping popularize the nail polish for men trend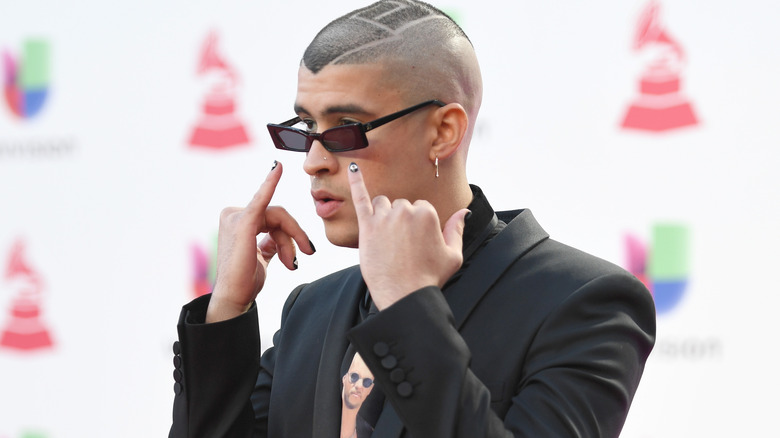 Vogue compiled a gallery of male celebrities who made nail polish a key component of their aesthetic. The list includes the likes of Bowie and Cobain alongside a new generation of stars who are replicating the trend years later. The latter group is comprised of the likes of Harry Styles, Lil Nas X, A$AP Rocky, Troye Sivan, Bad Bunny and Machine Gun Kelly.
Many of the artists have commented on the growing trend. "I feel like men should be able to do nail art without feeling feminine," A$AP Rocky told Vogue in 2019. 
Bad Bunny, known for rocking colorful polish and adventurous nail shapes, shared a similar sentiment. "I'm not telling people, 'Hey, paint your nails or color your hair, do this or do that,'" he told Paper Magazine. "I'm simply saying, do what makes you happy, and to never limit yourself."
These famous men are likely to push the trend even further. Publications such as The Cut speculated that Harry Styles' recently announced beauty line will include nail polishes. YouTuber Joey Graceffa attributed his own nail polish line with helping to de-stigmatize the trend of men painting their nails. ""I think me wearing nail polish in general, has inspired a lot of other boys to wear it," he told Allure before hypothesizing that the release of his line further cut back on men's hesitation.
Men are polishing their nails for a variety of reasons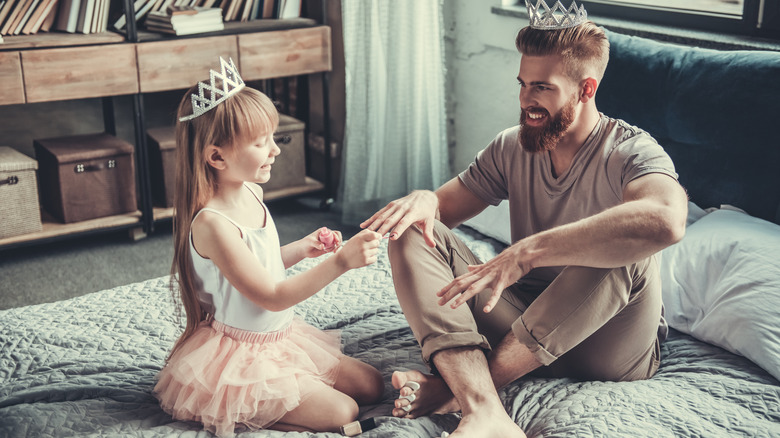 Painting your nails can be a fashion statement, but the nail polish for men trend certainly extends beyond just being fashionable. Bright Side noted men have utilized polish to raise awareness about causes they believe in. For example, actor Chris Hemsworth painted one of his nails and posted a photo to partake in the Polished Man campaign, which is aimed at ending violence against children. Fellow actor Zac Efron also joined the campaign.
A father may also end up with his nails painted by his kids. "Sometimes little girls get tired of playing with dolls and need other exciting experiences," Bright Side pointed out. "If a man is a loving daddy, at some point he is probably going to become a model for his daughter's manicure experiments. It is a unique and adorable way to bond with a child, as well as a chance to start sporting some shiny nail colors." That was the case for actor Dwayne "The Rock" Johnson, who posted a photo to Instagram of his daughter painting his nails back in 2018.
The Rock detailed the exchange between him and his daughter in the accompanying caption. "Daddy you really need your nails painted," his daughter said. Although he was trying to go to work, the actor admitted that he wasn't able to say no. "Yes, you're absolutely right — daddy needs his nails painted," he acquiesced. How are you supposed to say no in that situation?
What else has changed to make nail polish for men so popular?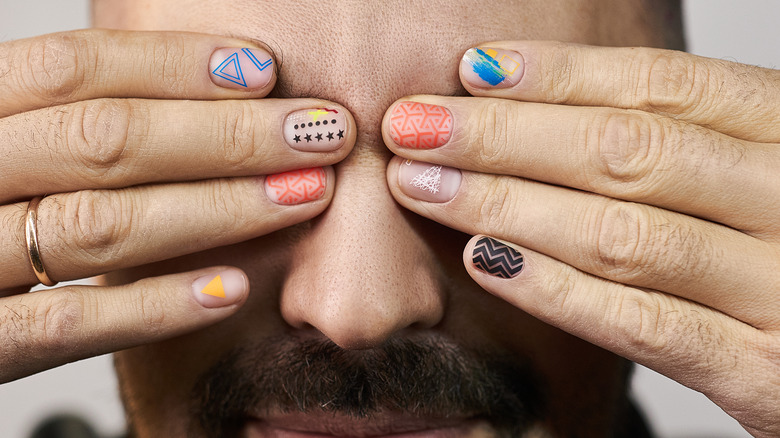 Celebrities are definitely partaking in the nail polish for men trend. But they aren't the only reason that we're seeing more men taking to the streets wearing polish. There is speculation that the pandemic and ensuing lockdowns made nail polish for men even more accessible. "I've heard from a few female friends that their boyfriends or husbands have let them paint their nails for the first time," nail artist Mei Kawajiri told the The Guardian. "Maybe out of boredom, but also maybe because on some level they were interested." It makes sense that they'd be interested during lockdowns since they could wear the polish at home before going out in it.
Mic speculated on several other shifts that are leading to the growing popularity. "Blame it on the rise of the 'metrosexual' and of male grooming, or the growing acceptance of gender fluidity," the publication wrote. This is occurring as men rebel against previously held perceptions of masculinity. "I think it's definitely been taboo for guys because it's primping and polishing and a feminine thing most macho guys won't do," makeup artist William Bob Scott told Mic. "It's so small and such an arbitrary thing but for most guys, they can't even take the time to brush their hair."
That's changing. And it likely doesn't hurt that the trend is relatively easy to partake in.
How to take part in the nail polish for men trend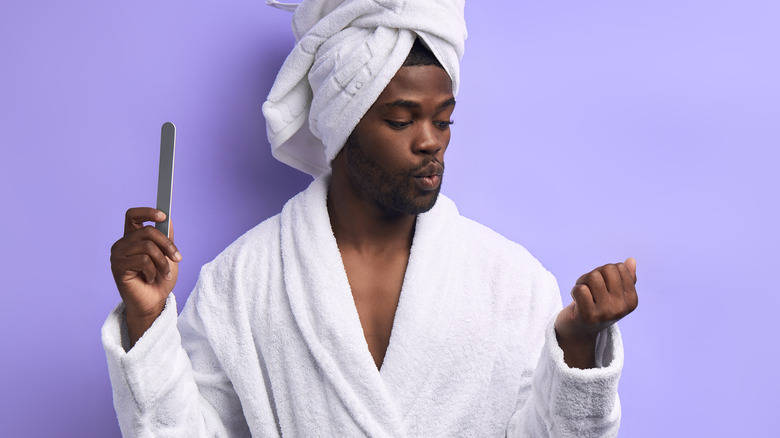 Men who are looking to paint their nails but aren't sure how to get in on the trend don't have to worry too much. Of course, they could always take a note from The Rock and let their kids take over. Or, they may book an appointment at a salon where a professional will leave them with a perfectly applied man-icure. However, they can also achieve the look from the comfort of their home.
"All that's involved in becoming the type of guy who consistently rocks a manicure is picking a color, tracking down a few key tools, and a little old-fashioned know-how," GQ promised. They provided some helpful tips to keep in mind. Obviously, the first step is picking out a color. Thankfully, that's easy: There are a variety of brands and colors that are readily available for users.
Of course, there's more to the process. Next up comes some prep work that goes into getting the nails ready to take polish. Once you've reached that point, GQ had some handy advice. "Go slow, make sure the polish gets on your nails and not your skin, and keep adding coats until the color is as saturated as you'd like. Afterwards, there's only one remaining cardinal rule: Don't touch anything" until the polish has time to dry.
With these tips and tricks in mind, anyone can join in on this hot new trend.
Source: Read Full Article