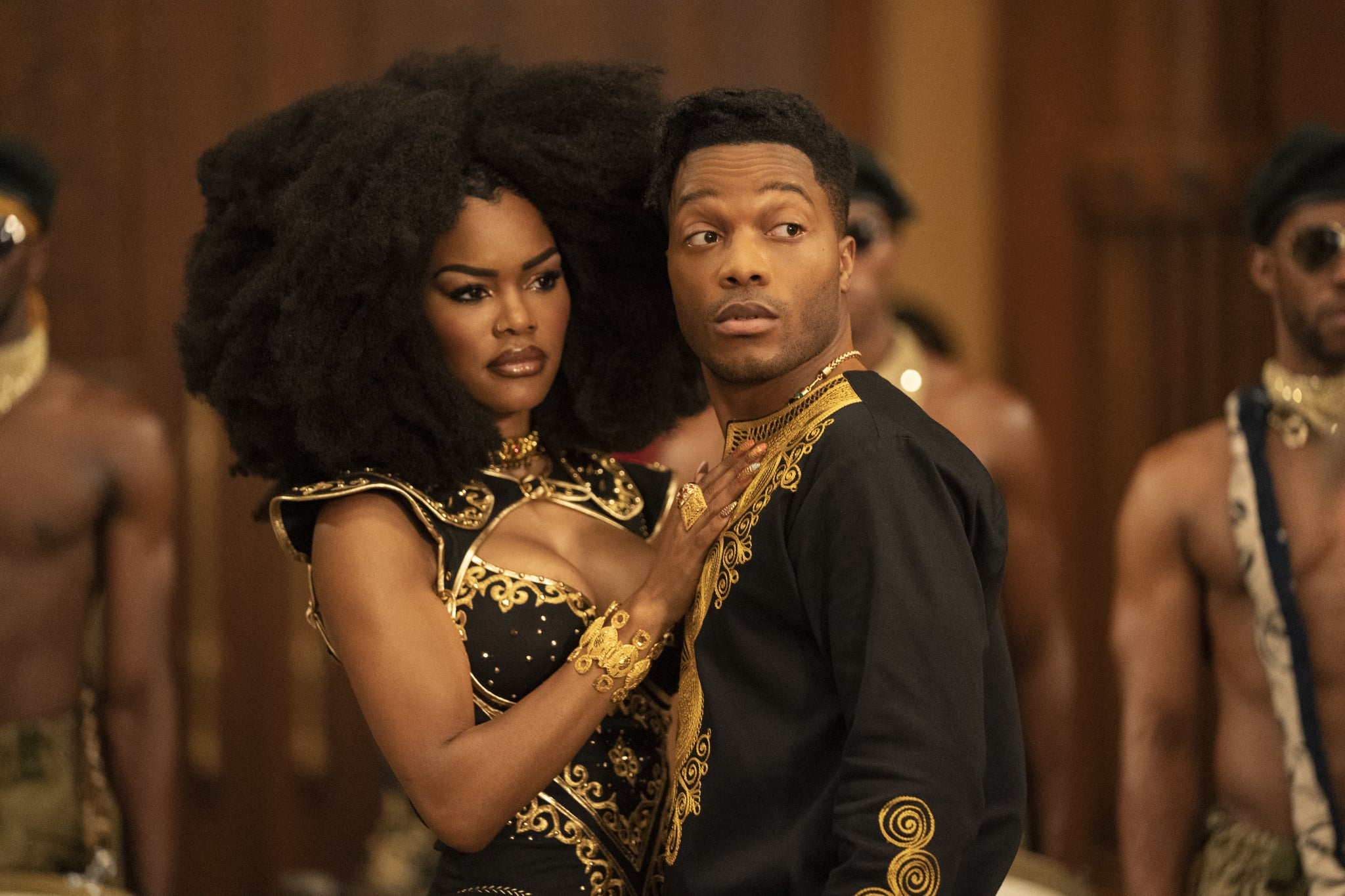 There's a lot about Coming 2 America — this year's sequel to Eddie Murphy's 1988 classic, Coming to America — that makes it a film worth watching. If the movie's feel-good plot can suck you in, it's the array of gorgeous hairstyles on display that'll make you stay. The film showcases a variety of natural hairstyles including Bantu knots, Afros, faux locs, and more — the goal, according to one of the film's lead hairstylists, Carla Farmer, was to show the versatility of Black hair.
"A lot of times when movies are portraying African people and Black people, they go straight to braids," Farmer told POPSUGAR. "There's nothing wrong with that, but I wanted to try to show more than that. Leslie [Jones]'s braided wig — that was the only braids I had in the movie."
The hairstyles featured in Coming 2 America were a result of the two months of prep time put in by Morris and Farmer ahead of filming. Many of the actors on set ended up wearing wigs that were handmade by the hair department, including the one worn by Wesley Snipes's character, General Izzi, which featured a flat twist style that took inspiration from the Rwandan Amasunzu tribe.
"They wear this certain style, and I wanted to look at that and create my own look on him," Stacey Morris, the film's second hair department head, told POPSUGAR. "I was creating right up until the last minute in the trailer. People thought it was just braids, but when you look really closely, it's not just braids."
Working with wigs provides an obvious advantage, though of course, that means that there was definitely no shortage of adhesive used on set. "We used a lot of glue. Like 24 bottles," Farmer said. "And thread and needles. There was a lot of sewing involved. That was my number one advantage and the thing I leaned on the most."
There's a lot that goes into working on such a massive production, like transporting hair products to filming locations, collaborating with several different hairstylists, and more. It's for these reasons that Farmer and Morris stress the importance of preparation behind the scenes. "Anything that you think you might need, you should get it. And then, you're overly prepared, and even with that you have to buy more," Farmer said.
In the end, though, all the team's hard work was worth the finished results.
"I was very proud of the work that I did on this movie," Farmer said. "I told the team that this is for the culture, and I wanted it to have that iconic film that people were going to laugh at and love, but at the same time, some eye candy so that we would be proud of how we look and the different styles that we posses as a culture. It was our love story to the culture."
Source: Read Full Article